Ghostly gambler at The Grenadier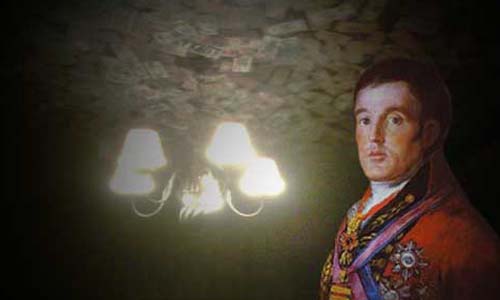 SATURDAY night I dined at The Grenadier, one of London's most haunted inns.
The historic pub is tucked away in a tiny, dimly-lit backstreet of Belgravia; the area is so quiet you could imagine you were in a country village.
The Grenadier started its time as an officer's mess for the nearby Duke of Wellington's Grenadier Guards.
Today, the inn is decorated in military memorabilia but most interesting is the cash from across the world decorating the ceiling. The money is a reminder of a horrific murder that happened in the 19th century.
Pete, one of the staff, told us the story of a young army officer who was caught cheating at cards. His gambling colleagues were so outraged they gave him a sound flogging and accidently killed him when he fell down the cellar stairs.
Ever since, his ghost is said to have haunted The Grenadier. The cash plastering the ceiling has been donated by visitors to pay the young officer's gambling debt.
Both customers and staff alike have reported spooky goings-on, including a policeman who witnessed a cigarette smoking itself and a film crew and photographer who snapped the spectral face of an soldier looking back at them from the window.
Related Posts via Taxonomies