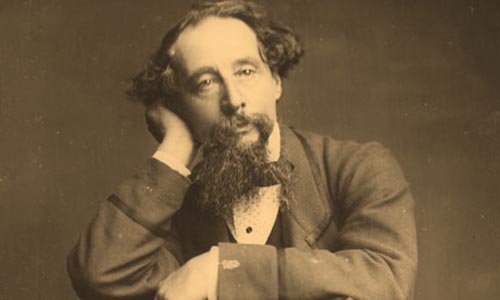 MENTION Charles Dickens and ghosts and one's thoughts immediately turn to A Christmas Carol.
And while Ebenezer Scrooge's spirit-led journey to redemption might be Dickens' most famous ghostly tale, it is certainly not his only dab at the macabre.
In fact, the British Library's new exhibition, "Hankering After Ghosts: Charles Dickens and the Supernatural" reveals the great Victorian writer's fascination with the paranormal permeated his life's work.
I visited this exhibition in London today and was delighted what I experienced.
The carefully chosen manuscripts, books and letters painted a picture of an man who was eager to believe in things from the other side, but was not so blind to accept everything at face value.
Books, letters, manuscripts and other documents show Dickens growth as a writer and his developing beliefs and disillusionment in spiritualism and mesmerism.
The exhibition gives a great insight into Victorian England's obsession – including Queen Victoria herself – with the supernatural and all things spooky.
"Hankering After Ghosts" follows Dickens' life from his time as a wide-eyed youngster spellbound by his nanny's ghost stories through to the height of his famed as one of the world's greatest novelists.
From The Pickwick Papers onwards, Dickens drew on his interest in ghosts and the uncanny to develop his characters and plots. One only has to look at the bleak horror of Ms Havisham in Great Expectations to understand that there is something greatly morbid about Dickins' work at times. The exhibition even notes supernatural elements in Oliver Twist.
Exhibition highlights for me included reading the heartbreaking story behind Dickens' short story A Child's Dream of a Star (1850) and listening to the 1930 recording of Arthur Conan Doyle discussing his thoughts on spiritualism.
Hankering After Ghosts: Charles Dickens and the Supernatural ran from 29 November 2011 to 4 March 4 2012.
You may also like to read: