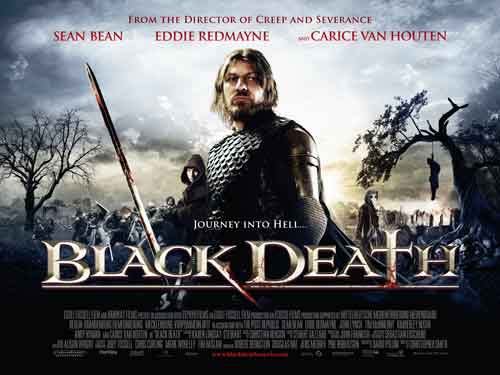 TITLE: Black Death
YEAR RELEASED: 2010
DIRECTOR: Christopher Smith

CAST: Sean Bean, Eddie Redmayne, John Lynch, Tim McInnery, Kimberley Nixon, Andy Nyman, Carice van Houten

PLOT: In 1378, a young monk joins a group of knights to discover the truth about a village in plague-ridden Medieval England, which appears to be immune to the sickness. Could dark forces be involved?

MORAL OF THE STORY: Cover your mouth when you cough or sneeze.

FUN FACT: The term "Black Death" is recent. During the plague, it was called "the Great Mortality" or "the Pestilence".

140-WORD MINI REVIEW: This dark bubonic tale brutally reveals the tensions and hysteria caused by mass death of communities in a short space of time.

WIKIPEDIA LINK:  Click here
IMDB LINK:  Click here
OFFICIAL SITE:  Click here
You may also like to read: