Doom metal fun with Witchfinder General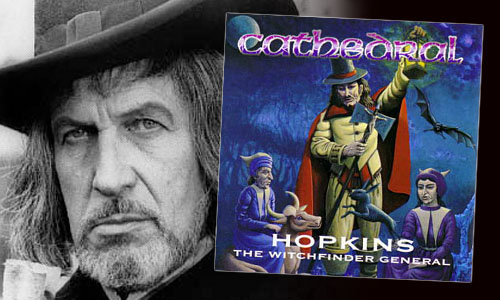 ---
Guest writer ANDREW GARVEY pays tribute to Cathedral – England's greatest and most influential doom metal band, who have drawn on horror imagery and subjects to create their distinctive music over their 20 year career.
---
Cathedral's links to British horror are best illustrated by the second track on their 1995 album Carnival Bizarre, a song inspired by 1968's classic film, Witchfinder General starring Vincent Price. The accompanying music video, with clips from the film itself, is a perfect example of the band's ability to make doom-laden heavy metal fun.  That video is available as an extra on Witchfinder General's 2001 DVD release.  And thanks to the magic of youtube here it is:
The Coventry-based doom-mongers have now disbanded, but we still have their 10th and final studio album The Last Spire due later this year to enjoy.
Their 1991 debut album Forest of Equilibrium's opening lyrics "our pleasures be joyless, doleful experiences / we seek not life's beauty but cherish it's funereal aspects" set the tone for a recording that's a slow, heavy assault on the ears and happy moods of the listener.  In short, it's a genuine classic of the miserablist doom metal genre.  By their second studio album the music was faster, more upbeat and groove-based, though still very clearly very, very metal, and heavy with it.  One of their most popular songs, the cheerfully infectious Midnight Mountain sounds like some ill-conceived yet brilliantly executed kind of Black Sabbath-disco hybrid.
Related Posts via Taxonomies