Guest writer GAVINPAUL "FOX" MARRINER delves into the heart of magickal London with this new occasional Spooky series. Today he looks at London's oldest occult bookshop and one of the city's most notorious resting places.
---
London is that most Magickal of cities. Do not let the crisply suited bankers or numerous camera obsessed tourists fool you, she has another side, a hidden face, and all it takes is a tiptoe or two out of the mundane and everyday to experience the shrill tingle of the Macabre and Miraculous for yourself.
Submitted herein for your approval in true Twilight Zone fashion are two of the top Occult related locations in Older than Old London Town.
Each is open to the public and drip with that tell-tale shudder of the otherworldly.
Tread carefully and respectfully in these places, and perhaps you too will be lucky enough to find that little slice of Magick for yourself, as I and many more before me already have. Happy hunting.
---
The Atlantis Bookshop
49a Museum Street, London WC1A 1LY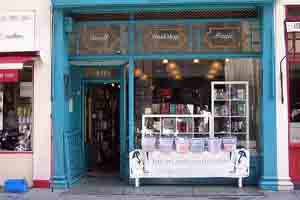 Frankly, there is no other location in the whole of London that is so deserving of a place on our list.
As it stands, the shop itself is the oldest Esoteric and Occult bookshop in the city, and has recently celebrated it's 90th birthday – as it was originally opened way back in 1922 when such Magickal ideas were still considered by many to be an undiscovered country.
Upon entering this most Mystical of shops you may be lucky enough to find Geraldine Beskin sitting behind the desk.
She is an internationally-renowned expert on Aleister Crowley, a little fact that fits the Atlantis all too perfectly, as the self-styled 'Great Beast 666' himself did indeed once frequent the shop on a semi-regular basis way back when.
The shop also oversees the excellent 'The Atlantis Bookshop Presents …' series of talks, held upstairs at the Milfords pub near Temple Tube Station every Wednesday and showcasing some of the most intriguing personalities in the current Magickal field.
Whether as a simple bookshop or as a major driving force in London's Occult community, Atlantis is truly in a league of its own, and worth a look for the intrigued historian and young Magickian alike.
---
Cross Bones Graveyard
Redcross Way SE1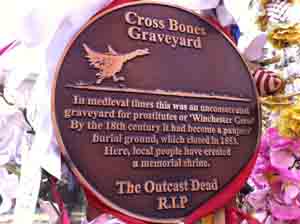 A change of pace from the previous entry, and one of the more freely accessible locations in this list regardless of the time of day, the next slot on out list goes without question to South London's very own unofficial shrine to the outcast dead.
Now little better than a Transport For London car park, the working history of the site goes back before the 16th century, and as such it served as a final resting place for 'single women', specifically the kind that Jack the Ripper would choose to spend his time with hundreds of years later, and whose profession as 'Winchester Geese' denied them a good Christian burial in the normal way.
Laying forgotten for centuries, the outcast dead slumbered peacefully under the earth until disturbed by the Jubilee Line, and how they chose to deal with that upheaval, by reaching out to a simple playwright in the hope that their voices would eventually be heard, would lead John Constable and his associates to establish free monthly rituals of thanksgiving and remembrance open to anyone and everyone at 7pm on the 23rd of every month in front of the graveyard.
If nothing else, it is worth going along just to see the arrestingly haunting memorial at the front gates, and for those who leave Cross Bones as affected by it as I did, a petition for the creation of an official Garden of Remembrance at the site can be found online.
---
You may also like to read: