See St Oliver Plunkett's Decapitated Head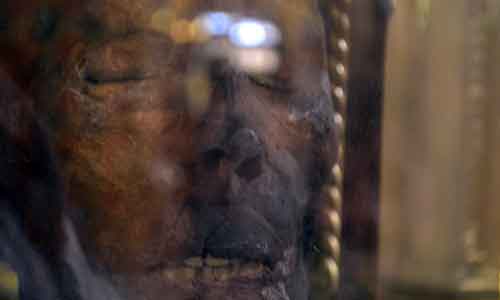 ---
Say hello to St Oliver Plunkett's Head, a religious relic which was once attached to the rest of the last Roman Catholic martyr to be executed in England

---
Imagine walking into a church and there's an old shrivelled up head on display. You can do it in Ireland with the noggin of St Oliver Plunkett impressively presented  for all to see in a lovely glass case.
Last year, I visited St Peter's Roman Catholic Church in Drogheda, County Louth, in Ireland. It was part of the wider tour I was taking and as with most group tours, I visited places I would normally never have considered.
Oliver Plunkett (1629-1681) was the Roman Catholic Archbishop of Armagh and Primate of All Ireland, who was executed for treason "for promoting the Catholic faith". He was hanged, drawn and quartered in Tyburn in 1681, during a time of rampant religious intolerance and unrest.
Related Posts via Taxonomies