St Wilgefortis crucified because SHE grew a beard!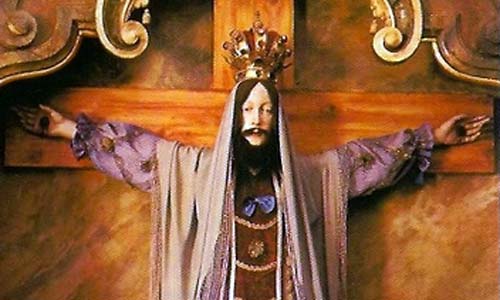 ---
A saint to put hairs on your chest! JACOB MILNESTEIN explores the sad fate of Saint Wilgefortis, the woman who miraculously grew a beard and was crucified for it.
---
Having a beard might not seem a good enough to nail someone painfully to a cross. Sadly, in the case of St Wilgefortis, facial hair was exactly the crime of which SHE was convicted.
Beaten mercilessly and humiliated by her family, this alleged 13th century saint was paraded through the streets by the authorities and eventually nailed up beyond the city walls as a warning to any who might embrace the new religion.
According to the fable, she hung upon the cross outside that unnamed Portuguese city for hours; Christ-like in her appearance yet dressed in accordance with her sex.
Often known by the name of Uncumber in England, Wilgefortis never truly existed in a historical sense.  Although her name gave rise to use of the English word 'disencumber', a term used to suggest the relief of a burden, the actual saint has no real grounding in history.
Related Posts via Taxonomies