FICTION: I Know You're There by Gary William Murning
---
"To see but never be seen … I Know You're There — a tense and terrifying tale of ghostly obsession …"
---
SPOOKY FICTION BY GARY WILLIAM MURNING
---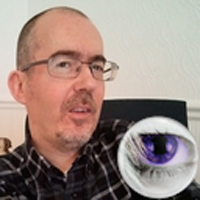 I started watching her in the early summer of 1990, when she was in her first year as a fully trained nurse—and I was rather less than what I am now. In retrospect, it's difficult for me to say what it was, exactly, that attracted me to her. I like to think it was something divine, something beyond the everyday. But, quite possibly, it was something far simpler than that, something chemical, something imbued with nature—even if it weren't something everyone would easily understand. Even if it weren't something everyone would easily believe.
She was beautiful; there was no denying that. Her dark, auburn hair and her fair skin—unmarked by time or trauma—held a certain quality that made her appear somehow apart from the rest of her kind. Her hazel eyes spoke of intelligence and wit, a willingness to laugh, a predilection to cry. And her body, even when dressed in the badly fitting uniform of her profession, had a shape that knew when to stop. It didn't push it, didn't try to be something it could never be—and in so doing, it achieved a kind of superiority most bodies can only dream of…  if bodies dream at all, which I'm sure they do. But it was none of this.  Not the hair, not the skin, not the eyes—and certainly not the body—that drew me to her in those earlier times.
Yes, it was something more. Something I couldn't and still can't quite put my finger on. Yes, I like to think some god placed a hand on either side of my head and turned it so that and I might see her.  For whatever reason, I was destined to watch her—destined to reflect the life she represented. Whatever that entailed.
Related Posts via Taxonomies