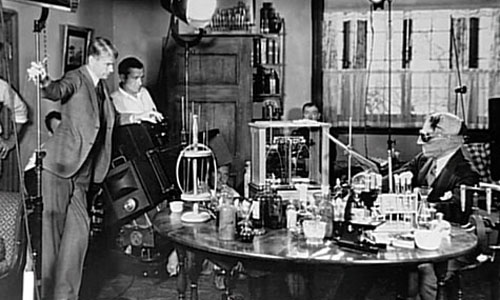 ---
Today is the birthday of James Whale – the legendary English director who made some of Universal's most well-loved horror films, including Frankenstein and The Invisible Man
---
James Whale (1889-1957) didn't direct that many horror films.
In fact, he only directed four. They were:
These films are some of the greatest films ever in the horror genre. Frankenstein, in particular, defined the iconic image of the Mary Shelley creation and made stars of Boris Karloff and Claude Rains. (The Old Dark House was Charles Laughton's first US film, but he was becoming a star already.)
It is for these very reasons that as we celebrate James Whale's birthday today.
We should recognise the man had an perfect hit rate when it came to horror.
Born in Dudley to a working-class family, Whale worked in various labour-intensive jobs, including service during the First World War,  before finding his way into theatre in London's West End and New York's Broadway.
His success with the Broadway Production of Journey's End, which starred Colin Clive, lead him to Hollywood where he directed the film version as well as a number of other war films. He then directed Frankenstein (1931) with a little-known character actor, Boris Karloff, and the rest they say is history.
While James Whale made many other excellent films outside the genre – such as Journey's End and Show Boat – it is his horror films for which he will be forever known.
James Whales deserve a longer article, but today I will just leave it this: James Whale made only four films which were all awesome, therefore he was awesome. Happy Birthday James Whale. The End.
For more information on James Whale, read More Than A Monster by Stephen Jacobs, the authorised biography of Boris Karloff, which has some very entertaining tales of James Whale and the making of the films Frankenstein, The Old Dark House and The Invisible Man.
You may also like to read: