---
MJ WAYLAND continues his series on 101 Great British Ghosts with card-playing Cavaliers, a ghostly King Arthur and the spectre of a King Charles spaniel.
---
61. At Wonson Manor on Dartmoor spectral Cavaliers have been seen playing cards, perhaps replaying the hand on which the title deed of the manor were gambled away.
---
62. Visitors to Renishaw Hall, the family home of the Sitwells near Sheffield, have reported receiving chilling kisses from the cold lips of ghosts.
---
63. The ghost of a woman has been seen washing her hands at Castle Grant near Grantown-on-Spey in Scotland.
---
64. Ham House in Surrey plays host to the apparition of a King Charles spaniel which has been seen in broad daylight.
---
65. At Hergest Court in Herefordshire a head with no body is carried by its owner's dog, who faithfully picked it up and carried it off after his master was beheaded.
---
66. The Bear Inn at Stock in Essex has a ghost whose earthly body became stuck in the chimney during a bar-room prank.
---
67. Roos Hall at Beccles in Suffolk has a variety of spooks including a coach with a headless groom which arrives on Christmas Eve.
---
68. The spirit of King Arthur is rumoured to inhabit Tintagel Castle in Cornwall.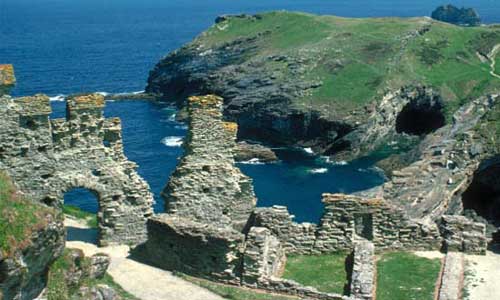 ---
69. John Buckstone, the actor/manager, still frequents London's Haymarket Theatre, even though he died in 1878.
---
70. Saddell Abbey in Scotland is said to be haunted by "giants and beasties".
---
We will continue to "count 'em down" next week with more of 101 Great British Hauntings!

---
MJ WAYLAND is an author, researcher and tutor specialising in paranormal and alternative subjects. He has an excellent blog called Walker of the Borderlands of Belief.

---
<!-comments-button-->