Say it three times – We Love Bloody Mary!
---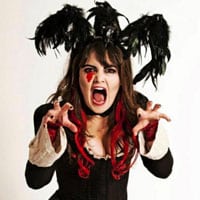 Today London's newest online horror comedy series, The Bloody Mary Show, makes its debut. Watch it here and you'll agree it's bloody marvelous.
---
I'd spoken to writer-producer Darren Chadwick-Hussein about the series a lot over the past couple of months and there was quite a bit of build up. The preview videos looked great. They were colourful, cheeky, bloody, a bit gruesome and rude, and all together lots of spooky fun.
Related Posts via Taxonomies