---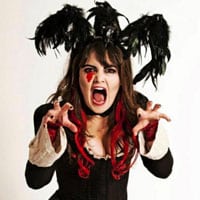 Today London's newest online horror comedy series, The Bloody Mary Show, makes its debut. Watch it here and you'll agree it's bloody marvelous.
---
I'd spoken to writer-producer Darren Chadwick-Hussein about the series a lot over the past couple of months and there was quite a bit of build up. The preview videos looked great. They were colourful, cheeky, bloody, a bit gruesome and rude, and all together lots of spooky fun.
But what was the actual first episode going to look like?
Well, today, the show – based on a motley crew of demonic and generally macabre creatures – went live and I can say it has lived up to all expectations. (I actually saw it last night – ain't I special!)
Darren, I am sure, won't mind me saying as his first big video web series, he has spent many sleepless nights worrying about the production. He has done a great job drawing technical and creative talents from across London. The web series was made on a shoestring budget but certainly doesn't look that way.
I simply can't wait for the next episode.
The notion of Bloody Mary – a demonic creature who appears when you chant "Bloody Mary" into a mirror three times – will be more known to American audiences than British ones. (In fact, when I first heard the name "The Bloody Mary Show" I thought it referred to Mary Tudor, the English Queen who spent much of her time executing her enemies.)
The lead character Bloody Mary, played by wickedly funny Hollie Taylor, is joined by an equally talented cast, playing a range of insane characters – a gay Grim Reaper called Abdabs (Thomas Coombes), a banshee called Malevolent (Jenny Fitzpatrick) and the Old Hag Visera (Elizabeth Webster). Also in the cast are succubus Samantha (Erica Emm) and incubus (Richie Hart).
The first episode see the supernatural creatures catching up in their local pub to discuss their day. Extraordinary horror creatures in ordinary circumstances with lots of laughs – who could ask for anything more!
A highlight of the first episode is the appearance of horror screenwriting legend David McGillivary (read The Spooky Isles interview with him here). McGillivray plays bartender Herzog, who is a cross between German director Werner Herzog (hence the name) and Joel Grey in Cabaret. In a world of strange characters, Herzog is particularly weird and I look forward to his development throughout the series.
The video series goes for seven episodes and we'll have a new episode every Friday at noon (UK time). The next month and a half is going to be a hell of a ride!
---
The Bloody Mary Show has a website: http://www.bloodymaryshow.co.uk and you can follow on Facebook and Twitter.
---
Here's a cool interview with Bloody Mary herself!

---
You may also like to read: