Say it three times – We Love Bloody Mary!
---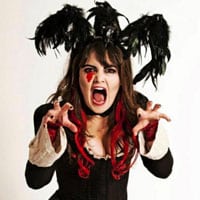 Today London's newest online horror comedy series, The Bloody Mary Show, makes its debut. Watch it here and you'll agree it's bloody marvelous.
---
I'd spoken to writer-producer Darren Chadwick-Hussein about the series a lot over the past couple of months and there was quite a bit of build up. The preview videos looked great. They were colourful, cheeky, bloody, a bit gruesome and rude, and all together lots of spooky fun.
But what was the actual first episode going to look like?
Well, today, the show – based on a motley crew of demonic and generally macabre creatures – went live and I can say it has lived up to all expectations. (I actually saw it last night – ain't I special!)
Darren, I am sure, won't mind me saying as his first big video web series, he has spent many sleepless nights worrying about the production. He has done a great job drawing technical and creative talents from across London. The web series was made on a shoestring budget but certainly doesn't look that way.
Related Posts via Taxonomies