Hallowmass at The Rose
---
The Rose Theatre in Bankside is hosting spooky evenings to celebrate Halloween next week! JON KANEKO-JAMES tells us what's going on at London's oldest theatre!
---
This Sunday and Monday, Boo Tours and Jon Randall will be celebrating Hallowtide at the Rose, Bankside.
The Rose is Bankside's first theatre, built by Philip Henslow, an Elizabethan entertainment Entrepreneur, in 1587. Henslow bought out the Bishop of Winchester's 'Little Rose Garden' and built an amphitheatre wit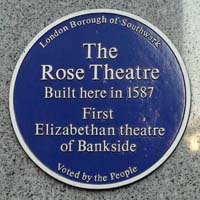 h a capacity of 1800, later expanded to 2500.
In those days, the Bankside was a hive of Witchcraft, blood sports, violence and debauchery. Legalised prostitutes, known as the 'Winchester Geese,' operated under licences for the Bishop, and offenders would find themselves incarcerated in 'The Clink,' the Bishop's privately operated prison.
Bankside was a limnal place, outside of the laws of London yet only just outside the walls. It was a shadow city, one that even had its own Great Fire in 1667. This was where the Bishop's law meant that you could see a show, gamble, hire a girl or practise one of the 'unclean' trades not allowed within the walls of London. This was a place where Borough Market, a huge cattle and grain market, stretched from the foot of London Bridge, all the way down to St. Mary's Hill, almost reaching as far over as the next nearest village to the City.
This was a dark, smoky, filthy and crime ridden district where Londoners could buy medicines or poisons… and access folk magic such as herbal medicine, cure-alls and healing prayers. Henslow himself operated as a quack doctor, selling non-traditional medicines that bordered on heresy. Others in the area laid curses, changed shape or even returned from the dead. Hallowtide was the festival where the living and the dead were shoulder-to-shoulder. Gifts and offerings would be left out for the spirits escaping purgatory, and the inhuman lurked in every shadow.
Related Posts via Taxonomies