Specter Spectacular: 13 Ghostly Tales
---
Specter Spectacular is a new collection of 13 ghost stories, including tales from British writers Sue Houghton and Robbie MacNiven. We asked Sue and Robbie about their chilling yarns.
---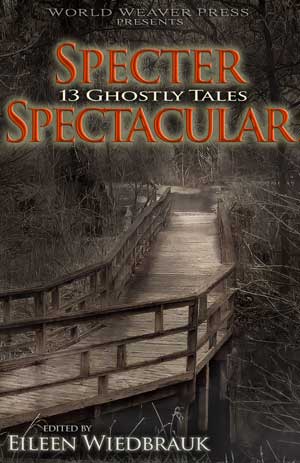 What draws you to writing and reading ghost stories?
Sue Houghton: Well, it isn't because I believe in the supernatural. That's not to say I don't scare easily, as, like all writers, I have a very vivid imagination. Writing a ghost story, for me, is all about teasing. Building up anticipation, tickling the fear button then just when the adrenalin's flowing, hold back a little, before bringing out the big guns. BOO!
Robbie MacNiven: For me, ghost stories are the premier horror tales, because they're the ones most assured to elicit a powerful reaction in the reader. There is something quite timeless about the supernatural. It impacts on a facet of the human brain that no amount of science or reason can subvert. It is our fear of the dark personified, the irrational worry that creeps over us when one of the senses we depend upon for survival is rendered useless. Good ghost stories can have an immediate effect – a quickening of the pulse, a creeping chill up the spine, a rising of hairs. We know we can take nothing for granted. That's something other stories just can't give you in a few thousand or even a few hundred words. Humans get a buzz out of experiencing controlled fear, and that's why haunting tales can be so fun to read and write.
Where did the idea for your Specter Spectacular story come from?
Sue Houghton: The idea for "The Secret of Echo Cottage" came from an overheard conversation between two women discussing how heightened their senses had become during their pregnancy. Of course, they meant sound, sight, taste, etc., but I wondered if it could involve the sixth sense, too. So, I began my story with a pregnant wife alone in an English country cottage and let me imagination run with it.
Related Posts via Taxonomies