---
Specter Spectacular is a new collection of 13 ghost stories, including tales from British writers Sue Houghton and Robbie MacNiven. We asked Sue and Robbie about their chilling yarns.
---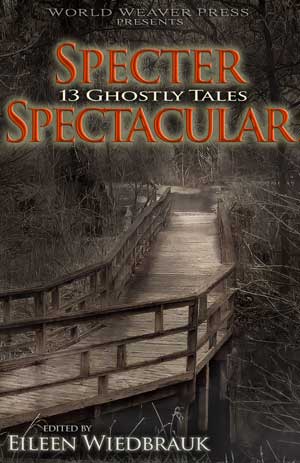 What draws you to writing and reading ghost stories?
Sue Houghton: Well, it isn't because I believe in the supernatural. That's not to say I don't scare easily, as, like all writers, I have a very vivid imagination. Writing a ghost story, for me, is all about teasing. Building up anticipation, tickling the fear button then just when the adrenalin's flowing, hold back a little, before bringing out the big guns. BOO!
Robbie MacNiven: For me, ghost stories are the premier horror tales, because they're the ones most assured to elicit a powerful reaction in the reader. There is something quite timeless about the supernatural. It impacts on a facet of the human brain that no amount of science or reason can subvert. It is our fear of the dark personified, the irrational worry that creeps over us when one of the senses we depend upon for survival is rendered useless. Good ghost stories can have an immediate effect – a quickening of the pulse, a creeping chill up the spine, a rising of hairs. We know we can take nothing for granted. That's something other stories just can't give you in a few thousand or even a few hundred words. Humans get a buzz out of experiencing controlled fear, and that's why haunting tales can be so fun to read and write.
Where did the idea for your Specter Spectacular story come from?
Sue Houghton: The idea for "The Secret of Echo Cottage" came from an overheard conversation between two women discussing how heightened their senses had become during their pregnancy. Of course, they meant sound, sight, taste, etc., but I wondered if it could involve the sixth sense, too. So, I began my story with a pregnant wife alone in an English country cottage and let me imagination run with it.
Robbie MacNiven: I'm a history student and historical fiction is my favorite genre to write, but sometimes I enjoy just kicking back and mixing the past up with elements that have no mention in the history books. Cross-genre is fun to write. I'd already done a horror set in the American Revolution, and I fancied trying one from the Civil War. My previous horrors had all been slashy-bloody, gribbly-monster types, and so I was interested in doing a more traditional , more subtle ghost story.
What is your favorite ghost story of all time and why?
Sue Houghton: So many. But simply because I've recently re-read it, I'll choose The Woman in Black by Susan Hill. It has everything. A period setting with a gloomy, isolated mansion and an embittered spirit seeking vengeance from the grave. Love it!
Robbie MacNiven: That's a difficult one. In school we read The Woman in Black by Susan Hill. Unusual for a piece of schoolwork, I really enjoyed it. It's a genre classic, built from the ground up to showcase all that's great about ghost stories. The pacing is simply excellent. Special mention also has to go to the short works of Abrose Bierce, I think: "Chickamauga", "The Spook House", "A Wireless Message" and "The Middle Toe of the Right Foot" set the standard for ghostly shorts. They're brief, punchy, and clean-cut without sacrificing the descriptive, literary richness characteristic of 19th century writers. "Iverson's Pits" by Dan Simmons is a more modern classic American Civil War haunter, which I really enjoyed. It, and Bierce's writings, provided much of the inspiration for "The Little House at Bull Run Creek".
What's the most haunted place you've ever lived or visited?
Sue Houghton: When I was about fifteen I stayed with my family in a remote farmhouse in Cumbria. I had to sleep alone and I can still see the room now. A tiny lead-paned window, beamed ceiling and an iron bedstead with a huge feather mattress that I had to climb onto with the aid of a footstool. A grandma clock ticked away in the corner. A huge oak wardrobe with a time-speckled mirror stood at the foot of the bed and for some reason that mirror frightened the life out of me. I couldn't look into it without getting spooked. The lady who owned the farmhouse chuckled, "That room has a story that would turn your hair white." I didn't ask what it was and needless to say, I didn't sleep alone for the rest of the holiday!
Robbie MacNiven: Actually, the house I live in is purportedly haunted. It's over 100 years old. My parents run it as a guesthouse, and we get dozens of families staying in it every year. Two totally separate groups have reported a strange phenomenon in Room 3, years apart and without knowledge of one another's experiences. The first involved a man waking up at dawn to see an old woman in a long white gown with white hair facing away from him, looking out the window. Thinking it was his wife he spoke to her. It was only when his wife rolled over that he realized she was still in the bed next to him. Looking back to the window, the apparition was gone. The second sighting was by a man shaving in the mirror opposite the window. He caught the reflection of the figure described above. Also believing it to be his wife he said something about the view out the window. He then realized that his wife was still in the shower. When he turned around the woman was gone. The clincher to this story came hears after the 2nd sighting, when the previous owners of our house visited us. Taken on a tour by my mother, and without any knowledge of the sightings, the previous owner paused when he reached the door to Room 3. "Ah yes," he said "This was the room where my grandmother died."
---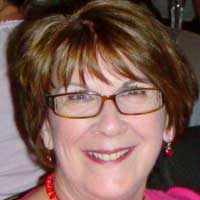 British author, Sue Houghton, had her first short story published in 2001 and has since become a regular contributor to most of the women's magazines in the UK and around the world. She has written for ezines and given quotes for several publications on the art of creative writing. Her work has won competitions and her stories have appeared in seven anthologies. Sue's dream is to have her novel published. www.suehoughton.co.uk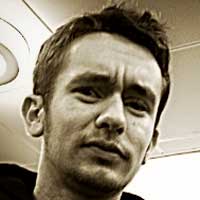 Robbie MacNiven is an author and freelance journalist living in the Highlands of Scotland and currently enrolled as a full-time student at the University of Edinburgh, studying History and English Language. In between exams (only a passing discomfort) and writing Robbie follows politics, football, backstabs people on Team Fortress 2 and stalks small presses online to see if they have a "submit" button. He generally prefers cats to dogs, and is 20 years old.
---
You can purchase Spectre Spectacular here.
---