Ireland's Leap Castle is "Spook Central"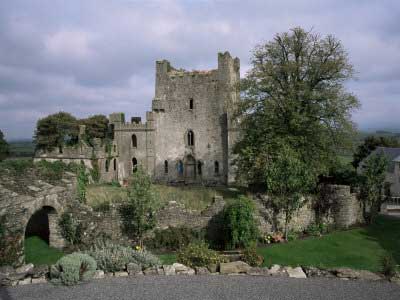 ---
PAUL MOYNIHAN, from Irish Ghost Hunters, looks at the haunted goings on at Leap Castle in County Offaly, Ireland.
---
If ghosts, ghouls, murder, mayhem and betrayal are your thing, then look no further than Leap Castle: this place is Spook Central. Regarded by many paranormalists as the most haunted place in the world, it's hard to disagree. Growing up, I had read everything I possibly could with reference to Leap, and getting the chance to spend the night there when my passion for paranormal research became a reality was a dream come true.
Metaphysically speaking it shares much of its legendary status with Charleville Castle, as it is said that Leap is also built on land used by Celtic Druids for ancient magical rites. The castle was built in 1250 by the O'Bannon family, with the intention of being their main stronghold. Legend has it that the castle's name comes from an event which took place between the two O'Bannon brothers. A contest was conceived of in which the two brothers were to 'leap' off of the rocks where the castle would eventually stand. The surviving brother would then become chieftain. In the early 1500s, Leap was besieged twice by the Earl of Kildare. The O'Carroll's, a powerful and fierce clan, soon took over the castle, and their era became the castle's most infamous.
One story tells of the O'Carroll's hiring the McMahon Clan to train them in new fighting techniques. During their visit, the McMahon's held a great feast to celebrate their victory over an enemy clan of the O'Carroll's. In a most treacherous move, the O'Carroll's poisoned their guests' food to avoid paying them for their services. Many have seen and heard the McMahon's spirits in the castle, crying in agony.
When the O'Carroll chieftain passed away in 1532, a sibling rivalry was born between two of the O'Carroll brothers. One of the brothers was a priest and, one evening while he held a mass for his family in the chapel that sits on the top floor of the castle, his brother (known as 'one-eyed' Teige) burst in, sinking his sword into the priest. His body lay lifelessly over the altar, and this room is now known as the Bloody Chapel. Visitors claim to have seen the priest in a small tunnel to the left of where the altar once stood, and strange sounds and footsteps are heard coming from the area.
Related Posts via Taxonomies