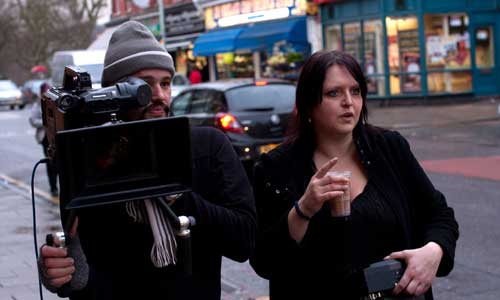 ---
In the second of a two-part interview with up-and-coming British horror film makers Systir Productions, ANDREW GARVEY speaks to the other half of the team, Vicky Howell about their latest project 'Anna', their horror influences and plans for the future.
---
Your latest project 'Anna' is a short horror film set in the woods. You raised money through a crowdfunding website. What are the advantages of raising money that way? And the drawbacks?
'Anna' is a short horror film written and directed by Alex Nicholson who is a television producer by day and this is his first short film, so we were brought on board to help produce it. This was our first experience of crowdfunding and, although it is a very useful way to raise money and awareness for a project, it is also ridiculously hard work – pretty much a full time job, which makes things a little tricky! It's also now such an oversubscribed way of raising funds that you have to shout particularly loud to stand even a chance of being heard. But on the plus side, it is a great way not only of raising funds, but also of building engagement with your audience and raising an awareness of your project which you can then build on during the actual production process. We learnt a lot from doing it, and if we went down that route again there are definitely things we would do differently, but it was an interesting experience.
You recently did some filming for 'Anna'. How did it go?
We filmed in Alice Holt woods which are near Farnham in Surrey and are a great location. They, and Bourne woods next door, are used a lot in big budget productions such as 'Gladiator', 'War Horse', 'Harry Potter' – in fact 'Thor 2' was filming next door in Bourne woods on the same night as us and even nicked a piece of our camera equipment when our delivery driver went to the wrong address. Cheeky blighters wouldn't give it back either, but fortunately the hire company sent us a replacement so all was well in the end. We did tweet 'Thor 2' about it to see if they wanted to do battle – Cannibals vs. Asgardians but they didn't reply… probably too scared…
The shoot itself was hectic as we only had the one night to get everything done, and when it's cold and wet and one of your actors is permanently naked on screen that can be tricky! We had to adapt the number of locations used due to the weather, but Alex got everything he needed, everything looks great and the film is now in post-production so hopefully it will be finished in early 2013 ready to go out to festivals.
You've previously described 'Anna' as being inspired by Hammer Horror. What do you particularly like about Hammer and, which other British horror films have inspired your work?
We grew up on movies from Hammer, Amicus, American International and the like as well as the bigger budget Hollywood horrors – staying up much later than we probably should have done as children! Much as we also love a good gorefest, part of the attraction of the Hammer films etc. is that fact that these films were constrained by small budgets and a fast turnover – often using the same sets, costumes and props again and again – and this made them have to rely less on effects and more on characters and what is not seen. This 'less is more' approach is often much more scary as what can be imagined by an audience is much more frightening than anything that could be shown on screen. Seeing a knife stab someone through the eye will make you squirm, but hearing the sound whilst not quite being able to see what is going on will make you afraid.
'Anna' harks back to these films in that it is very British in feel and there is an air of mystery about the whole story. We are in woods, at night, there is no explanation as to why, there is a naked lady wandering about, pursued by an old-fashioned looking gent in tweed. The film feels as though anything could happen at any moment and that waiting and not knowing what might jump out creates a tension that hopefully will scare audiences.
Do you have any comments on the British horror film scene generally? And where do you fit in?
I think in any film genre the British do our best work when we're just being ourselves and not trying to ape Hollywood or anyone else. In horror I think we do this perhaps more successfully than in other genres as we have such a strong tradition of it. From Chaucer to Elizabethan theatre to 18th and 19th century gothic novels to Dickens, M R James, Clive Barker, we know how to tell a horror story and we revel in being frightened. Horror films tend also to be an area where a production team can make a mark without having the backing of a studio or a big name, which seem to be the only ways of securing any kind of mainstream funding at the moment. British horror has become expert at using limited resources inventively, keeping locations to a minimum, using unknown actors and that's something we've learned from and which we are continuing.
Any other upcoming Systir projects you want to tell us about?
We have two short films which are still being completed. '616' is a proper B-movie style gorefest with a great central premise, which we want to get out there before someone else thinks of it because it really is something we've never seen before, and the other is 'Drawn Together', a slightly dark, largely silent rom-com in which nobody dies for a change but there are some creepy elements to it. See, we can't escape it! Both of these involve animation and so are taking quite a while to finish, but an end is now in sight for both so we hope to have them both completed by the end of the year. We've had some interest in turning 'the Syndicate' into a feature film, which would be amazing, and we've delivered a script, which they liked, so we're just waiting to see what happens with that. Other than that we have a second feature script we are working on with a view to finding funding for it in 2013, and a long term historical epic project which we're researching at the moment and hope to be in a position to sell as a script within the next two years as that will require a larger budget.
Where do you see Systir Productions in five years time?
On a yacht hahaha! No, you know what, we'd just like to be in a position to be writing and producing films and online content as our full time jobs, rather than having to squeeze it in around our full time jobs. We're in this for the long haul, and within five years I'd hope we could become self-sufficient as a production company, producing good work that people want to watch – that'd be great.
---
ANDREW GARVEY lives in Staffordshire.  He writes (infrequently) about mixed martial arts, professional wrestling, history, horror and folklore.  Follow him on Twitter: @AMGarvey Check out more Andrew Garvey articles for the Spooky Isles here.
---