---
Ripperologist JON REES reviews "Yours Truly, Jack the Ripper" episode from Boris Karloff's Thriller
---
Boris Karloff's Thriller was a popular spooky US television programme from the 1960s and during its first season it highlighted the historic 1988 Whitechapel Murders in London with "Yours Truly, Jack the Ripper".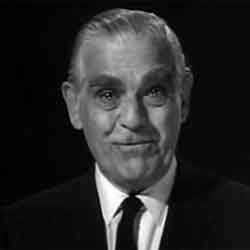 The episode, first screened on 11th April 1961, was directed by Welsh actor Ray Milland, who was better known to horror fans as the star of such classics as X: The Man with X-Ray Eyes, The Uninvited and The Thing with Two Heads.  Based on a story by Robert "Psycho" Bloch, the programme starred John Williams , Edmond Ryan , Donald Woods , and Ransom Sherman.
The Spooky Isles asked Jon Rees – an expert on the Whitechapel Murders to watch the episode to see what he thought. This is what he said:
"After a bizarre cold opening (featuring a quite atmospheric Ripper murder, cutting to a sequence of a man singing about Jack the Ripper to an accordion playing) and a wonderful intro by Boris Karloff where he explains the historical background, introduces the cast of characters and warns viewers to beware of the Ripper himself (it's a delightfully 50's-60's camp horror intro) the episode starts proper.
"Fast forward to the present day (the early 1960's, but it was the present day at the time) and the police in New York are busy trying to track down what they think is a Jack the Ripper copycat. Enter a British diplomat who has travelled from Washington to warn them that the murders aren't a copycat but committed by Jack himself, who has kept himself young for the last 70 years by means of satanic sacrifices all over the world in the form of the murders, which he has tracked for the last 30 years.
"It is undoubtedly a product of its time (with a nice little exposition of the plot after each ad break) and you do wonder if some parts of the script actually have a purpose, or if they're just there to fill time. There are however a couple of quite shocking moments. Not scary or jumpy, but they do put a little shiver up the hairs on the back of your neck. Overall though, this is more reminiscent of Psycho than a Victorian gothic horror – which works quite well. An enjoyable way to spend an hour."
---
Spooky Isles and London Haunts and Horrors will commemorate the 125th Anniversary of the Whitechapel Murders with a special talk from Jon Rees – a noted expert on Jack the Ripper – in London. Find out more here.
---
Read Jon Rees articles for Spooky Isles here
---
JON REES has a blog where he discusses all sorts of things, including crime and Jack the Ripper. Read the blog here and follow him on twitter here.
---