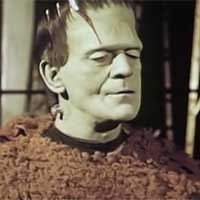 Check out this amazing colour footage from Son of Frankenstein. Originally thought to be a colour test showing Boris Karloff suiting up as the Monster in all his green glory to prepare for Universal's first Frankenstein colour outing, we have been told by top Frankie expert Pierre Fournier, from the amazing Frankenteinia blog, that it is actually a home movie!  Pierre reveals:
"I was looking at your website and your post about the SON OF FRANKENSTEIN color test. Thought you'd like to know: That's NOT a color test, it's a home movie shot by Karloff's then wife, Dorothy (Sara's mom). More importantly, there is no evidence that SON was ever meant to be shot in color. The info seems to have originated with fans and has been endlessly repeated, but there are no studio memos, no solid info indicating that SON was planned for color. It just so happens that Karloff owned a small 16mm camera for private use and the color film you posted was made when Dorothy visited the set. It's nice to see the friendly interaction with Jack Pierce."
It is indeed great to see Boris showing off his woolly duds clowning around with legendary makeup magician Jack Pierce. Thanks to Pierre for keeping us properly informed. (Frankensteinia is one of SpookyIsles' favourite blogs – it can't be beat!)
You can read Spooky Isles' review of Son of Frankenstein here.
---
You may also like to read: