Goth super model DARK MORTE waxes lyrical on all thinks macabre with her new regular spooky column, Macabre Musings!
---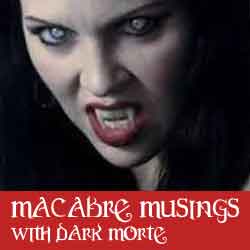 "I myself am strange and unusual", as said by Lydia Deetz in 1988's Beetlejuice. That pretty much sums me up and explains why I'm here on the awesome Spooky Isles, bringing you a new regular column which encompasses my general horror, gothic and dark musings.
As I'm sat here writing this column it's the middle of the week and I've already modelled for a photographer friend after work in the Square Mile – a vampiric horror shoot no less – and been interviewed by a reporter for a brand-new and potentially high-profile article on vampires. Not most people's everyday afterwork activities but as I said "I myself am strange and unusual" really does apply here. So, while we are on the subject of vampires I'd like to recommend a few hidden gems to you by the way of films and books.
First up two fairly unknown follow up films to the awesome Dracula 2000 (which was later renamed 2001). 'Dracula II – Ascension' and 'Dracula III – Legacy' which star a rather handsome Jason Scott Lee as a Vampire butt-kicking priest set on finding and destroying Dracula for once and all.
In both sequels Dracula has been reanimated rather like Doctor Who into different forms.
In 'Dracula II' 2000's Laurence Llewelyn-Bowen style Dracula Gerard Butler is replaced by Stephen Billington.
In Dracula III we are treated to an outstanding rendition of Count Dracula in the guise of the ultra-famous bad man Rutger Hauer.
All three films feature an unlikely but well played Dracula, which is part of what gives these films their charm. Don't be perturbed by the bad acting from some of the support characters in II, get past it, most of them are killed off fairly quickly thankfully. I won't reveal anymore, watch for yourselves, you will be pleasantly surprised!
On to books – Jemiah Jefferson and her 'vampire quartet', encompassing Voice of the Blood, Fiend, Wounds, and A Drop of Scarlett. Often compared to Anne Rice Jemiah offers a grittier, sexier alternative read, covering both the Gothic romance and modern realism of the vampire genre. Carnal and visceral her vampires are sure to keep your attention. I'm not going to do a book review I'm just going to tell you I throughly enjoyed them and you should definitely go and read them!
Now, I don't talk about music so often, probably because I'm no expert but I did recently attend a' How To Become A Cult Leader' gig night at The Courtyard (near Old Street, London) which featured the ever awesome Umberto. I love dark electronic music and first heard about Umberto a few years ago via a random Twitter post which led to me going to see him gig at The Drop in Stoke Newington the next night. Umberto is a modern composer/musician who draws on the 70's and 80's Italian Giallo and horror film genres, taking influence from the atmosphere created by them and artists such as Goblin/Claudio Simonetti who scored many of them. Despite the strong influences Umberto is deeply original. He has a stable hardcore following (including me) and I'm sure with musical talent of this quality both on record and live he will go far.
That's about it for this time. I've got a couple more episodes of my web series 'Frights and Delights' in the pipeline and apparently I've agreed to go on a trip to Transylvania vampire watching later on in the year this week too! I've made my demands for a guest room in Dracula's castle of course, well you have to visit the family right?
Macabre wishes for now and catch up with you again soon.
Dark x
---
DARK MORTE – Mistress of the macabre, queen of all things sinister, seductive and downright spooky, is a Gothic/Horror/Alt model, actress and vocalist from the haunted streets of old London. Her website is www.darkmorte.com. You can check out her Facebook Page here and her Twitter here.
---