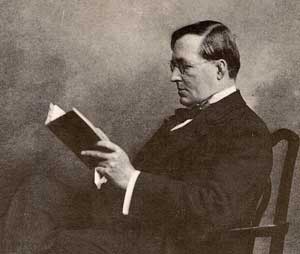 ---
M.R. James is considered the greatest writer of ghost stories ever to come out of England.
Over 70 years after his death his collected editions remain in print, and no festive season would be complete without one of his tales being adapted for the ever popular "ghost story for Christmas" TV series. But did James find inspiration for the horrors which haunt his " Christmas entertainments" in his own uncanny experiences.
EDDIE BRAZIL, in the first of a two-part series, explores the idea that some of his classics of supernatural fiction could well have been based on real paranormal incidents
---
Montague Rhodes James was born in 1863 at Goodnestone Parsonage in Kent, and later raised at Great Livermere in Suffolk where his father was Rector. He attended Eton College, where he would later become Provost, and Cambridge University where he was vice chancellor during the First World War. He was an antiquarian, medievalist, bibliographer and an expert on the early history of the bible. Yet today he is best remembered for his ghost stories, which is a little ironic for he wrote them mainly for his own amusement or to entertain friends at Christmas. All are classics of the genre and 100 years on still have the power to chill the reader.
But were any of his stories based on fact? When asked, James maintained that places are far more prolific in suggestion. He liked to place his characters in as realistic a setting as possible, and would often use existent or amalgamated towns, churches and landscapes together with real publications, guides and county histories, which imbued his stories with a kind of ambiguous authenticity that he was often asked if the tales were in fact true.
His vast knowledge of ancient manuscripts and medieval history undoubtedly provided him with potent material and background for the many horrors and evil wraiths which are let loose on unsuspecting treasure hunters, stuffy Oxbridge professors, and those curious, and foolish enough to cross the supernatural Rubicon in their pursuit of ancient artefacts.
His ghosts are not the pleasant kind; they are out for retaliation. Unlike Dickens benign spectres from A Christmas Carol, or the prophetic wraith in The Signal Man, James spooks are pure, unearthly, entities. Part ghost, part something from a prime evil past. They are unforgiving, malevolent, thin, white-sheeted horrors with teeth, talons and hair. Their sole purpose is to pursue, frighten and ultimately destroy those who have crossed the line.
If places were prolific in suggestion to James then the brooding, eerie landscape of East Anglia is the one location he returned to often. The remote coastal region of Eastern England furnished settings for two of James's most popular tales, "Oh Whistle and I'll Come to You my Lad" and "A Warning to the Curious". Any reader familiar with this part of England will agree it is indeed a bleak and lonely spot. In the dark winter months, when visitors are rare and the only sounds are the moaning wind, and distant, murmuring sea, the descending November dusk can conjure up any number of imaginary phantoms.
The ingredients of "Oh Whistle and I'll Come to You my Lad" and "A Warning to the Curious" are typical James. Solitary academics, or loners on holiday by the out of season seaside who, either by fate or design, stumble across some form of ancient relic to which are attached unknown supernatural powers. To remove, steal or handle the artefact is to invite trouble of the most terrifying kind. Many of the hapless victims survive the ordeal with just the terror of an unpleasant fright. Yet others are pursued un to death. James uses this plot device time and time again. His ghosts do not act in a way one would expect the typical spectre of the Victorian era, real or fictional, to behave. For here there are no white ladies, or phantom monks, no spectral coaches, no Women in Black. If James' ghosts are encountered they will not be denied. He maintained that a ghost, at least the fictional kind should be nasty, odious and frightening. They offer only malevolence and terror, the glare of an evil face, of pursuing forms in the darkness, and a final, long drawn distant scream.
Yet if James had prescribed rules for the fictional ghost story, what were his views on the reality of the paranormal? He said he was prepared to accept the evidence if it satisfied him, and it's possible that a curious incident he experienced as a child at Livermere Rectory was indeed paranormal.
"A Vignette" was written by James in 1935 but not published until after his death in 1936. It evokes his childhood memories of the family home at Great Livermere, and the first person narrative lends the tale an autobiographical flavour. The story concerns a strip of land James knew as the plantation, and a gate which separated it from the rectory garden. It was a close gate of split oak with a square hole cut in to it. When you entered it from one side you put your hand through the hole and lifted the hook which gave entry in to the plantation and then on to a second iron gate which led in to the park. Dotted with dark shrubberies and trees, the plantation becomes a place of foreboding for the young narrator. Returning home late one afternoon from school he enters and his childhood imagination is filled with all manner of dark fancies. Could there be a hooded figure hiding therein, and making a screen out of a tree trunk and keeping it between you and him as he moves around it and you walk on? He passes quickly through the plantation and closes the gate securely behind him.
Later, in the small hours, he experiences a nightmare. At the full of the moon, He watches from the windows of the rectory and fancies he can see curious movement within the garden. Something was coming towards the house. Still standing at the window he hears footsteps on the stairs and a hand on the door. Salvation comes on waking, and he ponders what the next development might have been. The recurring dream gives him an acute distaste for being alone in that part of the garden, and he observes how villagers passing through the park close to the gate which opened in the plantation did so with some trepidation, and he wonders if there is some unpleasant story connected with area.
Sometime later, alone in the house, he looks down, with apprehension to the plantation gate. It is quite rightly shut. Yet he has the distinct impression that through the square hole in the oak gate he could see something in white. He is determined to know what it is , and makes his way down to the garden. On approaching the gate, to his horror, he views a face looking back at him through the hole. It is malevolent and pink with large open eyes above which hung down the border of a white linen drapery. He at once flees, and on reaching a safe distance looks back. There was no white thing framed in the hole in the gate, but there was a draped figure shambling away among the trees.
As was usual in James' stories any explanation of the phenomena is not forthcoming. He was of the opinion that to explain the horrors which are let loose on the unsuspecting transgressors of the supernatural Rubicon would be to diminish their power. Reason and logic are the enemies of fear. However, in the last paragraph of "A Vignette", James leaves us with some kind of question regarding what he has experienced. he asks, "Are there here and there certain places which some curious creatures still frequent, whom on a time anybody could see and speak to as they went about their daily business, whereas now only at rare intervals does one cross their paths and become aware of them?"
Undoubtedly, James is asking do ghosts exist and do they have the power to harm us?
---
READ Part 2 of The Ghosts of MR James here.
Read Part 3 of The Ghosts of MR James here.
---
EDDIE BRAZIL was born in Dublin in 1956. He is a writer, photographer and paranormal investigator. He is co- author, with Paul Adams and Peter Underwood, of The Borley Rectory Companion and Shadows in the Nave: A Guide to the Haunted Churches of England. In 2012, with Paul Adams, he co wrote Extreme Hauntings: Britain's Most Terrifying Ghosts, and in 2013 he published the first ghostly guide to his hometown Haunted High Wycombe. He has recently completed a bloody history of Buckinghamshire, which will be published in November. He is also a guitarist , and in 1983 wrote the theme music to the British comedy movie,"Expresso Splasho" which featured Gary Oldman and Daniel Peacock. Eddie lives with his wife and Daughter in Hazlemere, Buckinghamshire. Find out more at his website here.
---