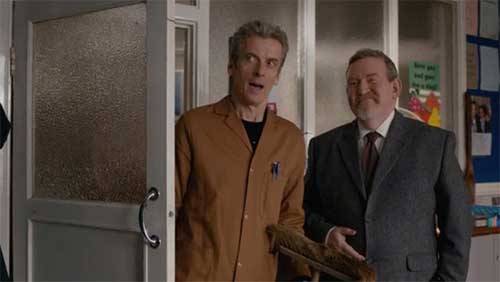 ---
JON KANEKO-JAMES says The Caretaker is the best Peter Capaldi Doctor Who episode yet!
---
The Caretaker, Peter Capaldi's sixth episode as The Doctor, was another total surprise. I was expecting to hate this as much as I was expecting to hate Robot of Sherwood… and surprisingly again, I didn't.
The episode was written by Steven Moffat and Gareth Roberts, a very difficult writer for me. Roberts wrote The Shakespeare Code and The Unicorn and the Wasp, which are two of my favourite episodes from the Tennant era. On the other hand, he also wrote The Lodger and Closing Time, both of which I hated with a passion, particularly Closing Time, which symbolises all the reasons I hated the sixth season.
The Caretaker is, in my opinion, a fantastic episode. I'm going to get that out of the way now, so that if you hated it, you can go somewhere else.
One of the only negative statements made about The Caretaker has been that it wasn't a particularly alien-heavy plot, which is entirely correct.
The Caretaker isn't about aliens, the aliens are just facilitating tool for some amazing interaction between human beings.
This is an episode about The Doctor and Danny Pink; and about some very important and, in my opinion, consistent aspects of the Doctor's personality. How could a man who was best friends with Brigadier Lethbridge-Stewart dare say he doesn't like soldiers?
There are so many great character moments here: nothing epic or gimmicky, just a masterclass in deepening character and writing fantastic scenes.
Once more, we have an episode that takes a thoughtful look at Clara's role from so many perspectives, and which again, in my opinion, makes a callback to Clara's being split through the Doctor's Timestream.
The episode takes place at the iconic Doctor Who location of Coal Hill School – looking very different to when we saw it in Remembrance of the Daleks, which makes sense as they probably had to do a bit of remodelling after the special-weapons Dalek.
We see a wonderful reference to the mind-controlled headmaster's exchange with Sylvester McCoy's Doctor from Remembrance of the Daleks: "You've come for the job of Caretaker? Doctor is it? Well, you're a bit overqualified, I suppose…" and the surprisingly charming character in Coal Hill student Courtney Woods, who gives Roberts and Moffat a chance to remind us that as old and angry as the Doctor is, he isn't an authority figure.
Even the resolution of this episode is satisfying, if only because it's an evolution rather than a neat tying up of plot points. The Caretaker succeeds in feeling like it has permanently changed how characters think of each other, without feeling like an exercise that characters had to get through so that they could get to the next stage of the show.
If there's a standout episode for this season so far, it's going to be this one. It's the first of the six that I immediately watched again, and unless the next seven episodes of the season suddenly become terrible, this is the one that has made me decide that I'm buying this season once the boxed set comes out.
Even if you only watch Doctor Who for props and explosions, there's something for you here: the robot-creature (seen in the teaser, so I don't feel I'm putting a spoiler out there) is a superb, and very well thought out piece of design, and The Doctor makes a wonderful jury-rigged piece of equipment that reminds me of the best the classic series had to offer.
All in all, the best yet: for action, for character development, and for plotting. A standout for the season so far.
---
JON KANEKO-JAMES of Boo Tours, which runs ghost and supernatural tours around London, including talks about human skin covered books. Check out Boo Tours website is www.bootours.com.
---
You may also like to read: