---
SELENE PAXTON-BROOKS marks this week's spooky anniversaries and events in the UK and Ireland
---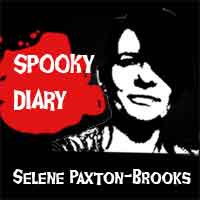 7 September
This Day in Spooky History
1533 Elizabeth I of England born.
1795 Birth of John William Polidori, credited as the creator of the Vampire genre. His most successful work was 'The Vampyre' in 1819.
1901 The Boxer Rebellion in China officially ends with the signing of the Boxer Protocol.
1940 London. The Blitz begins.
1978 Georgi Markov, a Bulgarian writer, was murdered in London when a micro-engineered pellet was fired into his leg from an umbrella by someone associated with the Bulgarian Secret Police.
Today's Haunting Anniversary
1957 Runcorn, Cheshire. James Cook claims to have spent two days in a UFO that he entered from a nearby hill.
---
8 September
This Day in Spooky History
1157  Birth of Richard I of England aka Richard the Lionheart
1727 Burwell Village, Cambridgeshire. Sixty-eight people died in a fire whilst watching a puppet show. The door had been nailed shut, with the audience inside, to prevent rough people from coming in!
1831 William IV and Adelaide of Saxe-Meiningen are crowned King and Queen of the United Kingdom of Great Britain and Ireland.
1888 29 Hanbury Street, Whitechapel, London. Annie Chapman, second victim of Jack the Ripper, found dead in a doorway
Some Spooky Fun for Today
1226 Abbots Bromley, Staffordshire. Today I will be visiting the Heart of England village of Abbots Bromley to watch one of the strangest but steeped in tradition dances of our green and pleasant land, the Abbots Bromley Horn dance. In fact they have been dancing here since 1226, almost 800 years!
The ancient ceremony comprises of 12 characters; 6 antler men, the hobby horse, the Fool, Maid Marion, the Archer and 2 musicians, all wearing colourful customs, singing and bellowing to traditional songs, and dancing their merry way through the village. Six of the party carry huge antlers, the largest being over three foot wide and weighing 25 lbs, which are reindeer horns mounted on wooden deer heads and held by a pole. In 1976 number 6 horn got slightly damaged and carbon dating showed that the anthers were actually around 900 years old!
On horn dancing day, the antlers are collected from the local church and with a blessing from the vicar set off on their 10 mile dance around the village and local area. On their tour the dancers visit houses and farms, stopping only to dance to traditional folk tunes played on the accordion and triangle, with the hobby-horse clacking along to the tune.
So why do they do this? Well, there are several theories. It might have started as a Solstice ritual, but it's also thought that it could have been a mark of gratitude towards King Henry I (1100-1135 AD) who granted hunting rights to the locals. Other ideas are that it is what's left of Pagan fertility ceremonies, left over from centuries of ancient traditions lost in the mists of time.
I am so looking forward to this, and imagine it will like taking part in The Wicker Man (1973), one of my favourite films of all time, just without the burning at the end!
While I'm here I'm also going nip into 'The Royal Oak Inn' to see if I can see the ghost of a cloaked and bearded gentleman who haunts the building… although he'll probably be out watching the Horn Dance with the rest of the village.
---
9 September
This Day in Spooky History
1087 Macabre end of William the Conqueror. He ruptured his intestines on his saddle.
1087 William II becomes King of England.
1513 Northumberland. Battle of Flodden Field. The largest ever battle between England and Scotland. 19,000 men died, including James IV of Scotland.
1543 Mary Queen of Scots crowned aged 9 months old at Stirling Castle.
Today's Haunting Anniversary
Rainthrope Hall, Flordon Tasburgh, Norfolk. Each year ghost lovers meet in the grounds of the hall. Some say this is Amy Robsart, who today died after falling down the staircase at Cumnor Place, and either her husband, Robert Dudley, or her half brother, John Appleyard.
Old Bawn Road & the Dodder, Dublin. Annually on the anniversary of the death of Archdeacon William Bulkley, son of the Archbishop of Dublin, a coach drawn by six headless horses, containing two passengers and two footmen, drives up to Old Bawn House. Unfortunately, should you see this coach you will die within a year and a day!
---
10 September
This Day in Spooky History
1167 Death of Empress Matilda of England
1948 Birth of Judy Gleeson in Arundel, Sussex. Acted in many British horror and sci-fi films between 1963 and 1981. Particularly known for her role as Peggy Heller in Hammer's Fear in the Night (1972) with Joan Collins, Ralph Bates and Peter Cushing.
Some Spooky Fun for Today
2014 St Ives, Cornwall. Lantern ghost story walk with Shanty Baba.
---
11 September
This Day in Spooky History
1649 Siege of Drogheda in Ireland ends: Oliver Cromwell's English Parliamentarian troops take the town and execute its garrison.
Today's Haunting Anniversary
1926 Bradford. Ghost appears by woman's body, when the locals rushed to her aid the phantom disappeared. See report by MJ Wayland about The Bradford Ghost Terror
---
12 September
This Day in Spooky History
1878 Victoria Embankment, River Thames, London. Cleopatra's needle and sphinxes were erected after having been presented to the United Kingdom in 1819. The ghost of a naked man has been seen dashing behind the monument and he there slips into the water without even a ripple. The Needle is said to be cursed and it has seen its fair share of suicides over the years, as people choose this spot to drown themselves.
Today's Haunting Anniversary
1825 Wanstead Park, Wanstead, London. Haunted by Catherine Tylney-Long who died today. She was once said to be the richest woman in England, but lost everything due to her husbands excessive lifetime. Nothing is left of Wanstead House today and Catherine is said to wander the park distressed over the way her husband had treated her. A phantom coach can also be seen here, carrying Elizabeth I across the park to visit Robert Dudley, 1st Earl of Leicester.
Baldoon Castle, Bladnoch, Dunfries & Galloway. The ghost of Janet Dalrymple returns here every year to replay the murder of her husband on her wedding night. Janet, who was believed to be mad, stabbed her husband and was then dragged away from the scene by servants.
---
13 September
This Day in Spooky History
Today's Haunting Anniversary
Newark Castle, Selkirk. On the site where hundreds of women and children were murdered by brutal soldiers, screams a cries can be heard echoing around the castle walls.
Some Spooky Fun for Today
2014 Oxford Open Doors, Oxford, Oxfordshire. Today I will be making my way to Oxford to take advantage of the yearly 'Open Doors' scheme, where you will get the opportunity to take a peep behind the scenes, to places that no mortal usually gets to see. Oxford is a beautiful city steeped in history and holds the oldest university in the English speaking world.
Today though I particularly want to take the behind-the-scenes tour of 'The Museum of Natural History' as it is one of my favourite places to visit. As well as the normal dinosaurs, zoological collections, and fossils, it also houses the amazing Pitt Rivers Museum, which was founded in 1884 by Augustus Pitt Rivers who donated his collection of weird and wonderful artefacts to The University of Oxford. The original collection consisted of 22,000 items, but this has now risen to 500,000 most donated by travellers from around the world.
However, today there is a chance to look around the 'Spirit Collection', which is a store containing unique specimens that have been preserved in spirit, including extinct species and natural curiosities. Because of the nature of the specimens this is for over 18s only and due to the narrow corridors and small spaces there is no disabled access. There are also two 'Treasures' collections to be seen. One hidden texts and photographs from the Archive and the other the collection of Professor William Buckland, and eccentric geologist, where you can see some of his amazing specimens and bizarre stories of his life.
Of course there are plenty of other places open under the scheme today and these can be found on their website here.
This is an amazing opportunity! So don't forget to book your tickets for a day to remember.
---
SELENE PAXTON-BROOKS is The Spooky Isles' South East England Correspondent. She is particularly interested in folklore and historical hauntings, "I've been intrigued by the paranormal from an early age. I am also an avid fan of British horror, particularly Hammer and Amicus productions, and I love all things strange and macabre. "
Follow Selene Paxton-Brooks on twitter here.
---