DARK MORTE is having a busy time in the run-up to Halloween 2014
---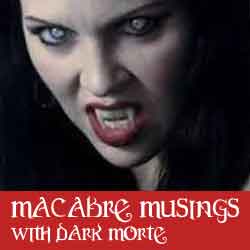 The dark and mysterious time of All Hallows Eve 2014 approacheth – a time for bats and ghouls, glowing Jack-o'-lantern and things that go bump in the night.
Pretty much my ideal day really!
So what have I been doing in the run up to Halloween you ask?
Well, I've attended the press night for impending slasher/possession film 'The Tombs: Rise of the Damned', directed by Dan Brownlie and featuring the beautiful Jessica Ann Bonner in the lead.
This was a press night to remember, apart from viewing the first cut trailer the night was actually hosted in The London Tombs itself.
We were treated to a VIP thrill ride through attraction, with added interactive horror from the film's cast which includes the damsel's in distress Jessica Ann Bonner and Dani Thompson, an animatronic clown, a creepy doll and the main killer himself, the imposing 'Teddy Scare'.
I also had the honour of judging at the British Horror Film Festival which is one of the UK's most prestigious film festivals and this year was held at the plush Empire Cinema in Leicester Square.
The day was filled with no less than three features and six shorts.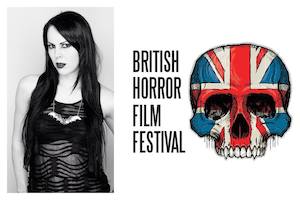 The quality of the films and cast up for nomination was second to none and myself and the other judges had a very tough job on our hands making the final decisions. To find out more and look out for the award winner announcements and photos check out the BHFF website.
The weekend before Halloween saw indie horror actress and film maker Dani Thompson's annual Halloween party. The theme this year – vampires, well as you can imagine I was very much at home there! London based photographer Jim Nemer was on hand to capture the evenings amazing outfits and frivolity of the event.
Not least of all I'm featured in this month's Haunted digital magazine's Halloween special, with an interactive video article of my investigation into Hertfordshire's haunted Minsden Chapel with psychic Andy Chaplin. Download your free copy here.
Now, what's coming up for Halloween? I've listed my top pick of events I'm either attending or have been on my radar:
Whatever you are doing, have a fantastic Halloween all! x
---
DARK MORTE – Mistress of the macabre, queen of all things sinister, seductive and downright spooky, is a Gothic/Horror/Alt model, actress and vocalist from the haunted streets of old London. Her website is www.darkmorte.com. You can check out her Facebook Page here and her Twitter here.
---