---
RICHARD PHILLIPS-JONES rounds the year off with 30 festive brain teasers
---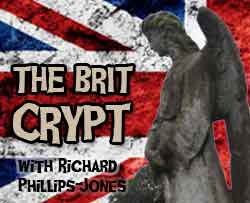 As 2014 draws to a close, I thought it might be nice to do something a little different in The Brit Crypt, perhaps something that might involve a little reader participation, and give you something to think about as you munch on a mince pie, washed down with some mulled wine.
Back in the day, it seemed that every seasonal issue of your favourite comic or the TV and Radio Times would have an end-of-year quiz of some kind, so in keeping with that tradition I have compiled a list of 30 questions, all related to British horror in films, TV, music, literature and lore.
All answers have been verified through a variety of sources, and the quizmaster's decision (i.e. mine) is final. If you're struggling for some of the answers, you might just find them by searching through the pages of this very site. Who knows, you may stumble upon some new and interesting spooky facts along the way.
So, without further ado, here are the questions…
---
1. A killer Santa Claus was on the loose in the opening story of which Amicus portmanteau film?
---
2. In which county would you find the haunted Borley Rectory site, Harwich Redoubt Fort and St. Osyth Priory?
---
3. What makes Dave Prowse unique in the Hammer Films story?
---
4. Mary Shelley is buried there, and Robert Louis Stevenson wrote Dr. Jekyll & Mr Hyde whilst living there – name the seaside resort.
---
5. Which Welsh author and mystic penned the novella "The Great God Pan"?
---
6. Which Ealing film production of 1945 established the template of the British portmanteau horror film?
---
7. Hammer alumnus Peter Sasdy directed which 1972 BBC ghost story, penned by Nigel Kneale?
---
8. The Landlady, Lamb To The Slaughter and Royal Jelly were episodes of which TV anthology series?
---
9. Name the British film company that produced Witchfinder General and Blood On Satan's Claw.
---
10. Which actor starred in a live-action version of A Christmas Carol, as well as reprising his role for an animated version 20 years later?
---
11. In Bram Stoker's original novel Dracula, who is the count's first victim?
---
12. His 1970's books Horror Films and Movie Treasury: Monsters & Vampires were essential reading for young horror fans of the time – name the film critic/writer.
---
13. In Mary Shelley's novel, what is Baron Frankenstein's first name?
---
14. He was the only actor to play Dracula, Frankenstein's creature, The Mummy and a werewolf for Universal Pictures – name him.
---
15. Which mysterious character hosted a range of fictional and real-life ghost stories in her own eponymously-titled comic, launched in 1978?
---
16. Tam O'Shanter encountered witches, warlocks and the devil playing bagpipes, in which Scottish poet's work of 1791? And…
---
17. Which classical composer used it as the basis of his Tam O'Shanter Overture?
---
18. Name the actor who appeared in more Hammer horror pictures than any other performer.
---
19. In literature, which long-running series of short-story collections was edited by Herbert Van Thal?
---
20. On screen, what did Ralph Bates manage that Fredric March, Spencer Tracy and Paul Massie didn't?
---
21. Which author of ghost stories was also provost of King's College, Cambridge from 1905 to 1918?
---
22. The Limbo Connection and Quiet As A Nun were stories adapted for which creepy TV series?
---
23. Vincent Price joked about meeting his third wife on location in a graveyard (Kensal Green Cemetery) – which film were they making?
---
24. John Wyndham's novel The Midwich Cuckoos was adapted into which classic horror movie?
---
25. Which spooky and controversial BBC drama starred TV presenters Michael Parkinson, Sarah Greene and Mike Smith as themselves?
---
26. "I was working in the lab, late one night…" is the opening line of which spooky hit song? And…
---
27. Who performed the original hit version of the song?
---
28. In which county would you find the Hell Fire Caves, and the nearby haunted George & Dragon Inn?
---
29. Which Hammer and Amicus director also won two Oscars for his work as a cinematographer?
---
30. Finally, which classic ghost story ends with the line: "God Bless Us, Every One!"
---
And now for the answers …
1. Tales from the Crypt 2. Essex 3. He was the only actor to play Frankenstein's Creature twice for Hammer 4. Bournemouth 5. Arthur Machen 6. Dead of Night 7. The Stone Tape 8. Tales of the Unexpected 9. Tigon British 10. Alastair Sim, in Scrooge (1951) and A Christmas Carol (1971) 11. Lucy Westenra 12. Alan Frank 13. Victor 14. Lon Chaney Junior 15. Misty 16. Robert Burns 17. Sir Malcolm Arnold 18. Michael Ripper 19. The Pan Book of Horror Stories 20. He changed into a woman for Dr Jekyll and Sister Hyde (1971) 21. M.R. James 22. Armchair Thriller 23. Theatre of Blood 24. Village of the Damned 25. Ghostwatch 26. The Monster Mash 27. Bobby "Boris" Pickett and the Crypt Kickers 28. Buckinghamshire 29. Freddie Francis 30. A Christmas Carol
---
Hope you did well in the horror stakes. I'd like to wish you all a very merry Christmas, and a suitably spooky 2015.
---
RICHARD PHILLIPS-JONES lives with his wife close to the Dorset Coast. He spends far too much of his spare time watching horror films and listening to psychedelic music (sometimes simultaneously). He also writes on Movies, Music, TV and other matters for his blog, The Purple Patch. You can follow him on Twitter @PurplePatchBlog
---
You may also like to read: