Spooky Isles is abuzz with this morning's release of the first-look trailer of Emma Dark's first horror short, Seize the Night.
Emma Dark, the artiste formerly known as Dark Morte, is producing, directing, co-writing and editing this the Blade/Underworld-inspired action horror. She's starring in it too!
The trailer looks just tremendous – it doesn't give much away so all we really know about the short is this from the synopsis:
"The story follows EVA, a renegade vampire assassin, on her action filled journey to the truth. The film opens shortly after she has escaped from a secret government compound, a center for the most nefarious biological experiments. Following her escape Eva is confronted by her life long enemy and is forced into a situation of such gravity she may have to deal with the devil she knows best in order to fight a far greater evil."
The film also stars Hollywood actor Anthony Ilott of Wrong Turn 6 fame and Paul Ewen of Cockneys vs Zombies. Cinematography is by Donato Cinicolo and AJ Singh. Donato Cinicolo is a co-director.
Interestingly, for action fans, the fight co-ordination is by Roy Scammell, a now semi-retired top Hollywood stunt man and fight choreographer, who was responsible for many of the James Bond films and cult films of the 1970s including A Clockwork Orange (1971) and Superman (1978). Roy was also Sigourney Weaver's stunt double in Alien (1979).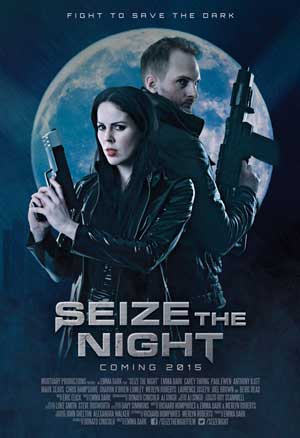 So the big question is – when is it coming out?
Emma told Spooky Isles this morning: "It's unknown when it will be available for public viewing as the aim is to take it to the film festivals this year and hopefully win some awards.  Most film festivals require the film to have not been displayed publicly."
With its great look, action-packed scenes and independent filmmaker-turned-beast Merlyn Roberts baring his wicked fangs in it, there's no doubt Seize the Night will seize some awards at the festivals this year.
---
You can find out more about Seize the Night at Mortuary Productions website and its Facebook site.
---