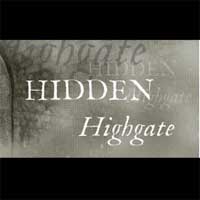 ---
For the Wicked Women Week, today's Twitter Talk Spooky Fan is Della Farrant (@HiddenHighgate), the author of Haunted Highgate
---
1. Who are you and what you are you about?
@SpookyIsles  I am a #Highgate based paranormal researcher, historian & author who tries to uncover truths submerged beneath fantasy & legend
---
2. Sum up your life in one tweet
@SpookyIsles That's a really tricky one. And impossible to answer fully in 140 characters! In essence tho … I don't want to reincarnate! So cram as much in as I can, hoping I get it right this time. My life is very hectic!
---
3, Do you believe in ghosts (and have you ever seen one)?
@SpookyIsles Yes, I believe in ghosts, ethereal beings, recordings from the past, sentient entities : but not all of them! I've seen a few, with other witnesses, and once heard the invisible horse in Swains Lane trotting past if that helps!
---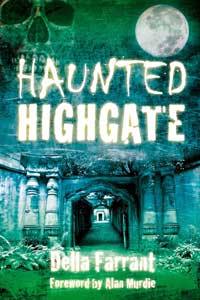 4. Favourite spooky spot?
@SpookyIsles I have quite a few! But if you would an example of one of the most potent ones – & I am sure a lot of Pagans out there concur: The Devil's Nine Stones near Winterbourne Abbas: an eerie, liminal space. Overbearingly silent & def between 2 worlds …
---
5. Tell us one interesting fact about yourself that we might not know.
@SpookyIsles I run a renegade, underground local mysteries group in #Highgate – the BHG have a lot of spooky fun. But I've said too much!!! The first rule of the BHG is – there IS no BHG 😉
---
6. Vampires, zombies or werewolves?
@SpookyIsles Werewolves for their anthropological & archetypal interest, zombies for getting scared s***less 😉 . No vamps for me, thanks!
---
7. Favourite horror film?
@SpookyIsles 
IMPOSSIBLY CRUEL QUESTION! But I can tell you about one OF my favourites: Ken Russell's Gothic from '86. Again, its the liminality, metaphysical anxiety within the Age of Enlightenment & its stunning!
---
8. What would you like to be doing in 10 years?
@SpookyIsles The same as I am doing now, w/ a few documentaries completed & a larger published body of research to share with the world 🙂
---
9. Best horror/supernatural author?
@SpookyIsles
I don't enjoy modern horror fiction, but in terms of non-fic … I have great fondness for Eric Maple, and his legacy. A gentleman who did his field research on foot and not from his armchair.
---
10. Got anything interesting coming up?
@SpookyIsles YES! The Highgate Vampire Symposium 2015 in #Highgate 26/07/15.Save the date & bookmark highgatevampire2015.uk for updates!
---
Listen to last year's Spooky Isles Podcast with Della Farrant just before the launch of Haunted Highgate – recorded from inside the haunted The Gatehouse Pub in Highgate 
---
---
DELLA FARRANT is the author of 'Haunted Highgate', the first comprehensive 21st century study of Highgate's many ghosts and legends. She is an active member of the British Psychic and Occult Society, and is fascinated by the long-forgotten secrets which archaeology and local history research can unveil. With a strong interest in psychogeography, her research is currently focussed upon the turmoil of 17th century London, and what we can learn about those troubled times from clues which still lay buried beneath our concrete capital.

Haunted Highgate can be obtained via Amazon or signed from www.davidfarrant.org

You can find out more about Della's research here at hidden-highgate.org
---
You may also like to read: