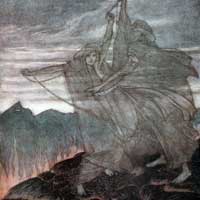 ---
We continue Wicked Women Week with tonight's Twitter Talk Spooky Fan, folklorist, writer, illustrator and blogger, Pollyanna Jones (@SeidrJones). We asked her 10 questions…
---
1. Who are you and what you are you about?
@SpookyIsles I write about strange and unusual things that tickle my fancy, in particular the darker folklore of the UK.
---
2. Sum up your life in one tweet
@SpookyIsles A rather interesting adventure. The most marvellous opportunity to write my own story.
---
3, Do you believe in ghosts (and have you ever seen one)?
@SpookyIsles 
I was sceptical, then saw a few things that convinced me there is something. I also get visitors in dreams sometimes.
---
4. Favourite spooky spot?
@SpookyIsles I love abandoned places; tunnels, old buildings, crumbling ruins. Anywhere with an atmosphere that inspires me.
---
5. Tell us one interesting fact about yourself that we might not know.
@SpookyIsles I'm a qualified fencing instructor. These skills come in handy when hunting fiends of the night! 😛
---
6. Vampires, zombies or werewolves?
@SpookyIsles I love the history & lore of werewolves, & how it has evolved over the years. But Victorian/Hammer vampires are awesome too.
---
7. Favourite horror film?
@SpookyIsles Yikes! I can't decide between Witchfinder General, Twins of Evil, Wicker Man, American Werewolf in London, Hellraiser, Gremlins.
---
8. What would you like to be doing in 10 years?
@SpookyIsles Lounging in a chaise longue in that library I've always wanted! Or failing that, finish some books and get them published.
---
9. Best horror/supernatural author?
@SpookyIsles M.R. James brings history, folklore, and horror together just perfectly. I also admire Clive Barker. He weaves a great tale.
---
10. Got anything interesting coming up?
@SpookyIsles Working on a set of short horror stories to put together in one tome. Also some field trips researching British folk culture.
---
 Pollyanna Jones wrote Elizabeth Stile, Witch of Windsor for Wicked Women Week
---
POLLYANNA JONES says: "I write about Norse, Germanic, British, and Celtic history, customs, and folklore. I also enjoy writing and studying anything a bit strange and unusual." You can read her blog  here and follow her on Facebook here.
---
You may also like to read: