A first-time festival dedicated to horror film legend Vincent Price will be staged in London this November, headed by the late actor's daughter Victoria Price and award-winning Vincent Price blogger and expert, Peter Fuller.
---
THE VINCENT PRICE LONDON LEGACY TOUR
4-8 November, 2015
---
Price, who starred in over 100 films, including such cult classics as The Abominable Dr Phibes and Theatre of Blood, was a lifelong Anglophile, a noted art lover, collector and lecturer, and a self-confessed foodie.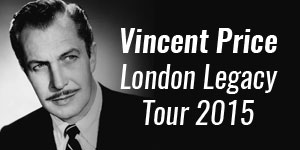 To celebrate the 50th anniversary of his acclaimed cookbook, A Treasury of Great Recipes, Victoria and award-winning Vincent Price blogger Peter Fuller, will be hosting series of events in and around London commemorating Price's love of art and food, while also paying tribute to some of his most iconic screen roles that were made in the UK.
Among the events planned are tours to the original locations used in the classic horror films Witchfinder General, Cry of the Banshee and Theatre of Blood; a multi-media remembrance by Victoria Price; a musical performance of the cult sci-fi The Last Man on Earth; and a special breakfast tour of Harrods Food Halls to mark the UK launch of A Treasury of Great Recipes. Plus, they'll be a special Vincent Price-themed foodie event held in the capital.
The Spooky Isles is proud to support this event and urges anyone who is interested in the life and work of Vincent Price and classic horror in general to check out the Vincent Price UK Legacy website for more information.