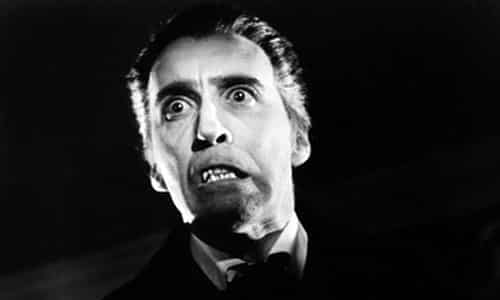 Black Sunday editor and long-time Spooky Isles contributor KATIE DOHERTY bids farewell to her Hammer idol Christopher Lee
It's always hard to imagine a world without its great leaders. I'm not talking about politicians here but people that make a real contribution to the world. As epic as this may sound it will never be quite as epic as the life of Christopher Lee.
Beyond the pages of Bram Stoker stood a tall, dark and handsome creature – he shot fear into my heart and ignited a lifelong love of all things that go bump in the night. He was the monster I was allowed to watch, the one I secretly loved. Away from the red eyes, the cape and the fangs was a man with an adventurous spirit, a great deal of bravery and talent. A person who has an autobiography that reads like fiction; a tapestry of war time tales and a film career spanning decades.
I have spent my adult life reading, researching and writing about the horror genre. I have spent hours in front of a TV screen, I have attended horror festivals, dedicated years of my life to studying  and completing a film degree and I even dedicated part of my own publication to vintage horror. This piece of me may not have existed if it wasn't for my first introduction to horror. I have one person to thank for this, yes, Sir Christopher Lee.
I never knew you, I never met you but a piece of you will live inside me forevermore. Sleep well.
Read KATIE DOHERTY's article 90 Years of Christopher Lee that was published to celebrate Sir Christopher Lee's 90th birthday and Bloody Britiain, at least we've got Hammer! in which she tells us why Hammer Horrors were the best.
You may also like to read: