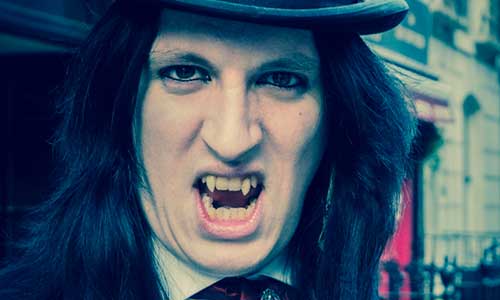 A dark corner of London became even darker recently as more than 100 vampires flocked to watch an evening of horror films just behind Euston Station.
Filmmaker Emma Dark joined forces with The Dastardly Dandy Demonaz aka Darren J. Powell  and the London Vampire Meetup Group, in association with Spooky Isles, to showcase indie horror short films.
Emma said: "I'm really happy that the London Vampire Meetup and I were able to put on a free entry horror film night by fans for fans that drew a huge crowd and gave filmmakers a platform to showcase their work and gain feedback.  Everyone throughly enjoyed the evening and we hope to run another night soon!"
Here's a list of the films that were screened on the night (with links for those publicly-viewable films):
---
1. Closed Circuit
Andrew Loveridge of After Midnight Productions, Running time: 6 minutes and 32 seconds
---
2. Just One More Bite
Nigel Osner (Producer), Running time: 9 minutes and 58 seconds
A vampire is interviewed at home by a late night TV show! Award winning comedy horror short with both song and dialogue.
---
3. SEIZE THE NIGHT (trailer)
Emma Dark of Mortuary Productions, Running time: 40 seconds
Seize the Night is an original British independent horror short by Emma Dark. The film will be a high-octane thrill ride influenced by the likes of Blade, Underworld, Dracula 2001, True Blood and Razor Blade Smile. The story follows Eva, a renegade vampire assassin, on her action filled journey to the truth. Visit Seize the Night Facebook Page
---
4. THE WISHING WELL
Merlyn Roberts of Wyldewood Productions, Running time: 15 minutes and 2 seconds
Through his grief a man unlocks the door to an unholy evil, will he survive?
---
5. BITE: PAVANE FOR A VAMPIRE QUEEN
Kevin Jackson, Running time: 10 minutes and 28 seconds
---
6. 29 DAYS CROSSED
Dan Brownlie of brand-B Corporation, Running time: 6 minutes and 50 seconds
29 Days Crossed is a found footage homage to the post modern "non-zombie" zombie genre that takes influence from screen and comic medium equally.
This short from award winning director Dan Brownlie tells the story of a young woman (played by Jessica Ann Bonner) who is battling her own demons as well as the hordes of undead that infect her world.
Here are some photos from the night!
You may also like to read: