KAJA FRANCK discusses the newly-announced University of Hertfordshire 'Company of Wolves' conference dedicated to werewolves coming this September
I am excited to announce that registration has opened for the Company of Wolves conference at the University of Hertfordshire as part of the Open Graves, Open Minds Project, which has previously held conferences on vampires in popular culture and Stoker's Dracula (1897).
The Company of Wolves turns its attention to creatures which are not strictly undead.
Described by Emily Gerard as 'First-cousin to the vampire', in The Land Beyond the Forest (1888), werewolves and shapeshifters have often been represented as second-class monsters – a trope which is exemplified in the recent Underworld movies (2003-2012).
This three-day conference, from 3 to 5 September 2015 at the University of Hertfordshire, will be dedicated to werewolves, shapeshifters and feral humans in literature, folklore, movies, and popular culture.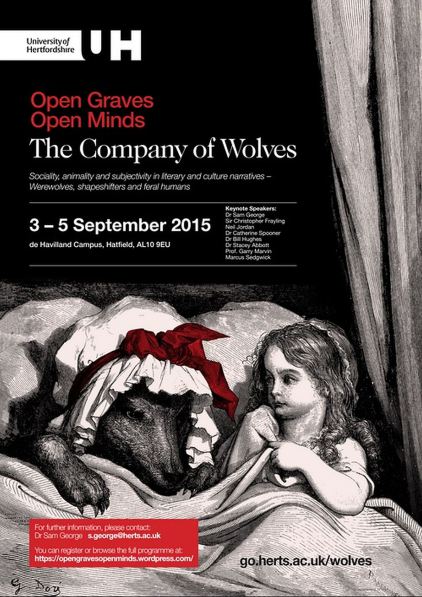 The conference will include 50 speakers across an array of panels as well as extracurricular activities including: a visit to the UK Wolf Conservation Trust; a trip to Peter the Wild Boy's Grave – a feral child who was discovered in Hanover in 1724; and a 'Lycanthropic Lantern of Fear' show.
The keynote speakers for the conference include Sir Christopher Frayling, author of the seminal text Vampyres: From Lord Byron to Count Dracula (1992), talking about Angela Carter's werewolves in her collection The Bloody Chamber (1984); Neil Jordan, the director of Company of Wolves (1984) based on Carter's short story, the film adaptation of Anne Rice's Interview with a Vampire (1994), and the vampiric movie Byzantium (2012); and, Marcus Sedgwick, who has written an extensive number of Gothic novels for both children, young adults, and adult readerships, who will be talking on fictional representations of feral children.
With opportunity for lively and engaged discussion, the Company of Wolves conference will be a chance to learn more about our hirsute alter-egos and make contacts for future research.
You can find out about booking information here.