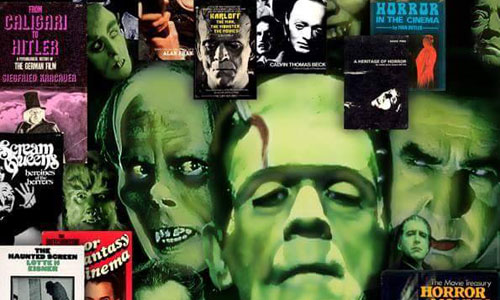 DAVID SAUNDERSON talks to We Belong Dead magazine editor Eric McNaughton about his newest project, a book about 1970s horror fandom 
Eric McNaughton is slowly becoming a full-fledged legend in the British horror scene. His We Belong Dead fan magazine from the 1990s is has now well-and-truly become resurrected with new colourful and insightful editions with amazing articles appearing regularly. Eric recently decided to put together a tribute book to the world of horror in the 1970s, so we took some time to ask him about the hey day of horror fandom.
SI: Well done on the book Eric, it's a fantastic idea. You've had lots of people join you on this journey to horror yesteryear, why do you think so many people love horror from the 1970s?
I think for many of us, that was when we were growing up, our defining years. Just reading the chapters and talking to people, I am just amazed at how many shared experiences we had. At the time, as a kid, you think you are the only one, whereas in truth, there were hundreds of others loving those films just as much. There were hundreds, if not thousands, of us across the globe, all experiencing the same thing, being influenced by the same books and magazines.
We all love nostalgia, of course, and it takes us back to a time when things seemed simpler, the only worries you had back then were choosing between buying House of Mystery or The Witching Hour comic! And for so many of us, the 70s was when our love of the genre started.
SI: Say someone comes to this book not knowing about life as a horror fan in the 1970s – what will they learn from it?
The first thing they will discover is just how much stuff there was in the 70s! There seemed to be an explosion of books, magazines, trading cards, posters, movie tie ins… you name it. Not to mention the wonders we saw on TV, be it the legendary BBC2 double bills, Appointment with Fear, TV horrors such as Salems Lot and Frankenstein the True Story. It really was a golden time.
And of course this was a time before VHS, DVD, Bluray or streaming. It's hard to describe to someone not there the thrill of seeing these films on TV.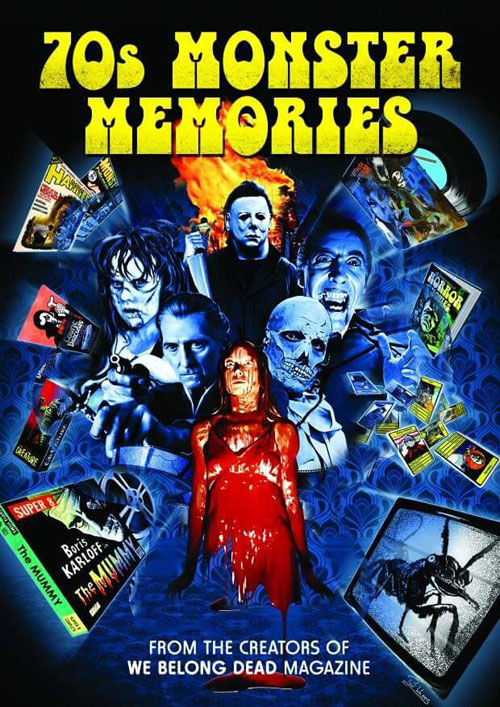 SI: Tell us about your own time as a horror fan as a youngster?
My own monster memories began in 1973 with three things, all of which I can remember as clear as if they were yesterday. First and foremost was discovering Denis Gifford's wonderful Pictorial History of the Horror Movies. I think for many 70s monster kids that book was our point zero, the thing from which all other things grew. I still vividly recall the 12 year old me being on holiday on the Isle of Wight and seeing that wonderful garish green cover in a bookshop window. I was hooked!!
The second defining moment was discovering Monster Mag issue 1. I had gone to the newsagents with my long suffering mum and while looking for the latest DC or Marvel comic I had been confronted with this huge mag featuring Christopher Lee's Dracula staring out from the cover! I somehow persuaded my mum to buy it for me.
And third was discovering the wonderful world of Aurora glow in the dark models. My first was Phantom of the Opera, and I collected them all apart from King Kong and Godzilla.
Ask any one who grew up in the 70s and they will tell you a pretty similar stort.
The first films I ever remember seeing on TV in the early 70s were Them! And Dracula Has Risen From the Grave, still two of my all time favourites which I am thrilled to see are about to be released on blu ray!
SI: Spooky Isles helped take some photographs for Stephen Jacobs' look at the horror memorabilia collection of Dave Swift. Dave's massive collection was beyond belief – it was so extensive and had items I had never seen before. Did the production of the book undercover any memories that you had forgotten?
Oh, just editing and proofreading all the wonderful chapters brought back sooo many memories, be it Dracula ice lollies, the scary public information films or Dinosaur model kits. The incredible thing is just how much stuff there was!! And just reading the listings for the BBC Double Bills, or ATV's Appointment with Fear, the memories came flooding back. It has been a joy to put together and we have had so many talented writers involved. Even our cover is a tribute to the Gifford book, same font as well!
SI: We notice you have Spooky Isles favourite Alan Frank doing your introduction which you must have been very happy about. Tell us how such a horror film legend came to be involved in your book.
Well, of course, after Denis Gifford's book, it was Alan's books that we all wanted. Just pouring over those photos hoping that one day we might finally see those films (never dreaming of course that we would be able to own them all on shiny discs!!).
It was our mutual friend Tony Earnshaw who contacted Alan for us. We have a facebook group for all the contributors to the book and I asked them who they would like to do a Foreword and Afterword. Many names were suggested including Mark Gatiss and Christopher Frayling, but the two names that cropped up again and again were Alan Frank and Dez Skinn, who was the editor of both Monster Mag and House of Hammer magazines. Luckily Dez lives in Brighton so we often meet for coffee and as I say, thanks to Tony Earnshaw we were able to get Alan's participation. And I think it is just perfect considering the influence they had on us all.
SI: With Hammer legend Christopher Lee – one of the last horror greats – passing recently, it is an appropriate to remember those who have given us such joy with terror. Surely he and the likes of Peter Cushing must make up a big part of the book.
Well, I don't think you could put a book about the 70s together and not have Lee and Cushing! They were boyhood heros of mine and of course during that decade they were both still making horror films. Just think of all the books and magazines of that time that featured either Peter Cushing or Christopher Lee on the cover. Along with Vincent Price, they had taken the torch from Boris Karloff, Lon Chaney Jnr and Bela Lugosi, who in turn had taken it from Lon Chaney. The sad thing is there is no one to carry on from them. While Christopher Lee's passing it truly is the end of an era.
SI: How can people get their hands on the book?
We are hoping the book will be out late November. At 400 pages full colour and 70 chapters it is hopefully going to be the definitive guide to that special decade.
Once we are nearer publication date we will be posting on facebook and among the horror community.
We will have our own website up and running www.webelongdead.co.uk and will be having updates there or people can just drop us a line at wbdmagazine@yahoo.co.uk
SI: Thanks Eric, we can hardly wait to see a copy, it's going to be great!
You may also like to read: