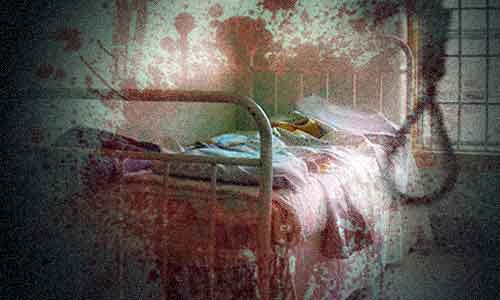 THE Spooky Isles has been contacted by a reader who needs help with a disturbing – and potentially harmful – paranormal experience, so we've sought the advice of  a ghost hunter.
And in doing so, we have discovered a treasure trove of thrilling and spooky stories from tales of benign spirit guides to screaming mental asylum inmates.
We got the tweet the other day from a reader who had recently been lying in bed with his girlfriend when they both felt heavy pressure on their chests, strangling them. The couple struggled to open their eyes and when they did, the presence was gone. It was a terrifying and seemingly unearthly experience but they could not fathom what was going on.
They asked us for help but like them, we didn't have a clue.
Seeking explanation for this peculiar occurrence, I contacted a Facebook Friend, Barbara Lowe, a psychic medium who runs White Light Paranormal in East London.
Barbara has over 20 years experience as a psychic medium, specialising in clearing properties across London and southern England of spirits.
Barbara contacted the couple and told The Spooky Isles she was deeply concerned about the night-time terror case, saying she felt it was supernatural elements causing the distress.
"We've come across sleep paralysis before," Barbara says. "But this person was being strangled. We have to rule everything out.
"We are making arrangements for me to pop over there. It doesn't sound good to me. He's also getting poltergeist activity – banging and all that."
Barbara explains that White Light Paranormal uses a traffic light system to define threat. Priority Amber is alarming and potentially dangerous but not as threatening as Red – "a full blown emergency harming" which requires immediate removal.
"I'm not sure what's going on – we're now on standby, waiting to pop over and I haven't done a remote viewing. But I normally do that before I get there."
Barbara is keen to help the couple with their paranormal problems. She has dealt with about 1000 clearings in her career – some can be stranger and more difficult than others. White Light Paranormal doesn't charge for clearings – only for petrol money.
"We're still doing a hotel at the moment. It's a huge job – 150 crossed so far. It's a Victorian-built private hotel in Essex. It used to be a mental asylum."
"That's cool!" I enthuse.
"Not so cool for someone staying there though," Barbara responds. "It's awful, the residual energy is bad. There is screaming in the hall way. A man hung himself off the top balcony. We had to destroy the rope."
"Was the rope still there in physical form?" I ask.
Barbara says yes: "They still had it in the attic. I burned it then buried it. We're going back in the New Year for Round Two."
2011 was a busy year for Barbara and her crew at White Light Paranormal. She has done at least 100 clearings last year and she says some have been very scary.
LATER THIS WEEK we will continue our discussion with Barbara about her experiences as a psychic medium and discover what it's really like going toe-to-toe with the spirit world, including the dreaded 18th Century highwayman Dick Turpin! (I've also been invited on a clearing so I will write about that in coming weeks too!)
You may also like to read: