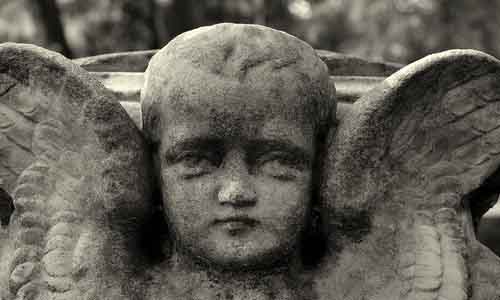 Manchester's SHIRLEY JOHNSON reveals her childhood ghost experience – the night a "cherub" appeared at her window!
"When I was 4 or 5 years old back in the early 1970's we lived on a new estate in Whitefield, Bury.
A lovely open spaced area with lots of fields. I remember going upstairs to bed one night, as normal, and dropping off to sleep.
I was woken up by a tapping noise, and turned round to look at my sister who was fast asleep in her bed.
When I looked up above her, there was somebody there, tapping lightly outside the window.
I can only describe it as "cherub" looking – very white, small, about 3 foot tall, with tight white curls.
Next thing I know, this being is standing on the windowsill, which surprised me, but I wasn't scared.
We started chatting, about what, I don't recall.
I looked around at the wall because I could hear banging again and saw two black shadows,with top hats and capes on.
They looked like they were pulling something back and hammering.
I still wasn't frightened.
All of a sudden my Mum walked in the room and asked who I was talking to.
I looked at her and replied 'the white lady', and when I looked back, she, and the shadows were gone.
My Mum was a little freaked out by my tale, even though she thought I had dreamed it.
We found out off neighbours, that the new estate had been built on an old cemetery.
We moved house not long after.
My Mum and me talked about my story for many years after, and it is still clear in my mind.
I still can't watch the film The Poltergeist without being unnerved, because of the similarity of the house being built on a cemetery.
I like to believe that the Cherub was there to protect me from the shadowy figures. I would certainly be scared if anything happened like that to me now."
---
IF you have a ghost experience from the uK or Ireland that you would like to share, please contact The Spooky Isles with your story.
---
You may also like to read: