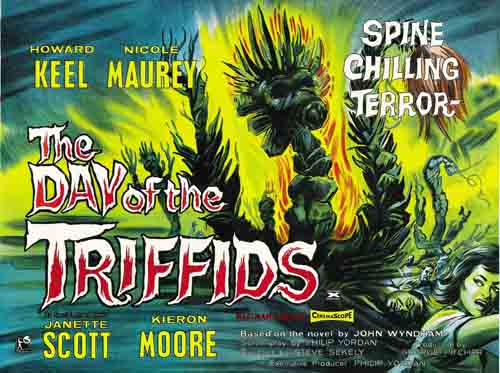 TITLE: The Day of the Triffids
YEAR RELEASED: 1962
DIRECTOR: Steve Sekely
CAST: Nicole Maurey, Howard Keel and Janette Scott
PLOT: A shower of meteorites produces a glow that blinds anyone that looks at it. As it was such a beautiful sight, most people were watching, and as a consequence, 99% of the population go blind. In the original novel, this chaos results in the escape of some Triffids: experimental plants that are capable of moving themselves around and attacking people. In the film version, however, the Triffids are not experimental plants. Instead they are space aliens whose spores have arrived in an earlier meteor shower.
FUN FACT: When the film was finished it was too short, so the entire sequence where the triffids attack the lighthouse was added. This sequence was directed by an uncredited Freddie Francis.
140-CHARACTER MINI-REVIEW: Genuine British classic, the stuff that nightmares of really made from!
WIKIPEDIA ENTRY: Click here
IMDB ENTRY: Click here
BUY FROM AMAZON: Click here
You may also like to read: