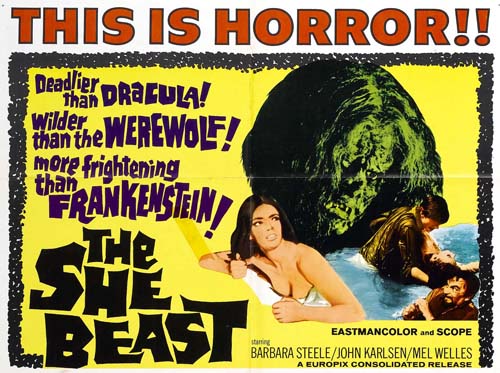 TITLE: The She Beast
YEAR RELEASED: 1966
DIRECTOR: Michael Reeves
CAST: Barbara Steele, John Karlsen and Ian Ogilvy
PLOT: A young woman is driving alongside a lake. She has an accident and the car plunges into the water. Her body is then possessed by the spirit of an 18th-century witch who was killed by local villagers, and is bent on avenging herself on them.
FUN FACT: This UK-Italian-Yugoslav joint production was shot in 21 days with many of the crew members appearing on film in minor roles. (Barbara Steele was only available for one day – so they kept her on set for 18 hours.)
140-CHARACTER MINI-REVIEW: Genius director who died in his prime makes fun film with appalling makeup.
WIKIPEDIA ENTRY: Click here
IMDB ENTRY: Click here
BUY FROM AMAZON: Click here
---
---
You may also like to read: