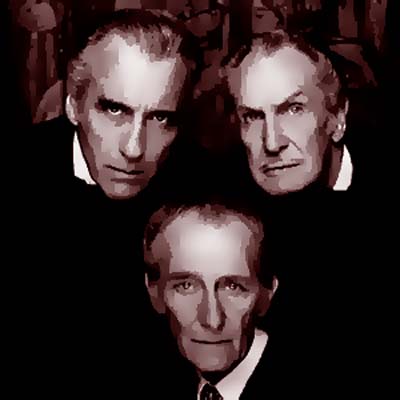 ---
Half of all horror film stars celebrate their birthdays this weekend – it's a statistical fact!
---
TODAY is Peter Cushing's birthday and tomorrow we celebrate the birth of Christopher Lee and Vincent Price.
To my thinking, there are maybe only six true horror film stars – Boris Karloff, Bela Lugosi, Vincent Price, Peter Cushing and Christopher Lee.* It's funny how half of them basically share the same birthday (May 26 and May 27)!
Peter Cushing (1913-1994) and Vincent Price (1911-1993) are no longer with us but this weekend marks Sir Christopher Lee's 90th Birthday. It's an amazing achievement for Lee, whose career has almost been reborn in recent years, with him having appeared in Star Wars, Lord of the Rings and various Tim Burton films, including his latest, Dark Shadows.
(I remember growing up being the only person under the age of 50 who had ever heard of Christopher Lee, now every sci-fi/fantasy nerd wants to know him!)
Tomorrow, The Spooky Isles will pay tribute to the "Prince of Darkness" Sir Christopher Lee on his 90th birthday.
In he meantime, here is a lovely tribute to Peter Cushing from Mark Gatiss in his History of Horror series. Enjoy!
(*Ok, maybe I missed out Lon Chaney St or Jr from that – but it didn't suit my statistical facts!)
---
http://youtu.be/0I-5gURnsFE
---
You may also like to read: