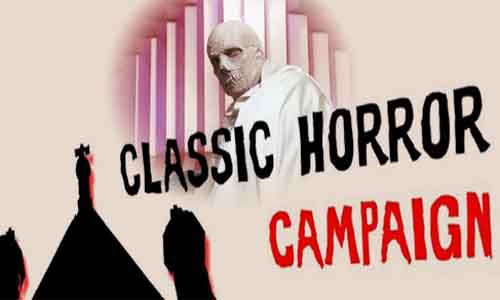 ---
In the first of tonight's double bill, RICK GLADMAN of the Classic Horror Campaign explains why there needs to be more horror films on the BBC!
---
Do you remember those dark days back in the mists of time when Britain only had three television channels, porn meant sex not torture and Dr Who wore a very long scarf?
Back in the seventies and early eighties BBC2 used to broadcast a season of classic horror double bills throughout the summer every Saturday night.
These would usually start around 10pm and continue till the early hours and are fondly remembered by film fans of a certain age.
Many of us would be allowed to stay up late to watch these classic movies as a weekend treat; families gathered together around the television set to share the frisson of Universal's Dracula and Frankenstein or a gory (or so it seemed at the time) Hammer Horror.
Despite the fact that we now have hundreds of TV channels, it feels like our choice of television viewing is more limited than ever with an endless parade of boring reality shows, talent shows and dull mainstream Hollywood movies never more than a decade old.
Heaven forbid that people should be exposed to a film or television show that was made in … (gasp!) black and white and is over 10 years old!
So the Classic Horror Campaign was set up to encourage the BBC to bring back their iconic horror double bill seasons to primetime Saturday nights and to celebrate the old-school horror films that are part of our cultural heritage.
Despite the hundreds of channels, DVDs and the internet at our disposal, people are not being exposed to these iconic films with many young people not even being aware of their existence.
How can one appreciate the horror films (or any films) of today without an understanding of the history of horror and indeed the history of film and film-making?
We would urge anyone who loves horror films and old classic films in general to sign the Classic Horror Campaign petition – we are currently aiming for 3000 signatures and already have the support of various horror celebrities, actors, writers, producers, websites and magazines around the world including Emily Booth, Eileen Daly, Caroline Munro and Shane Briant.
The campaign has been featured on BBC Television's Points Of View and by Scream, Shock Horror, Rue Morgue, Freaky Monsters, Famous Monsters of Filmland, Bedabbled! and Shadowland magazines and websites.
We hold monthly horror double bill screenings at The Roxy Bar & Screen in London and are currently organising the Frighten Brighton Classic Horror Film Festival taking place this summer.
Whatever the outcome of the petition, the Classic Horror Campaign will continue to raise awareness and celebrate the horror and fantasy films and television programmes of a bygone era and help to introduce them to a whole new audience of younger fans!
---
RICK GLADMAN (aka Cyberschizoid) runs the Classic Horror Campaign. You can sign the petition here. For more information, visit Classic Horror  Campaign Website here and Frighten Brighton Website here.
---
You may also like to read: