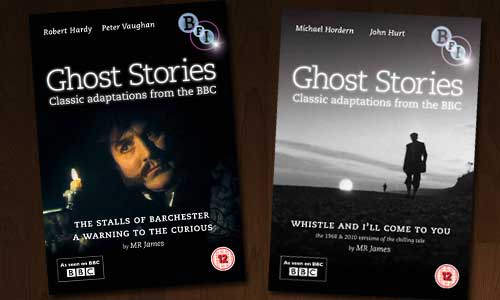 ---
ADAM SCOVELL reports on the exciting news the British Film Institute is to release some very rare and extremely anticipated spooky BBC television specials
---
This autumn sees the re-release of some of the most monumental and affecting Ghost stories ever to be televised in the UK.  The BBC Christmas M.R James adaptations became a regular feature during the 1970s.  With the original discs being deleted and considered a rarity online, this eagerly anticipated release is not only perfectly timed with the changing seasons but long overdue.
All 12 of these spooky, wintery delights are to be released by the BFI, two on 12th August and others to follow in September as well as a box set of all the releases due in October.  The date of these first releases however is no mere coincidence.  The timing of these discs is to coincide with the August the 1st in celebration of M.R James' 150th anniversary birthday.  M.R James is the perfect linking connection between all these releases being adaptations of his timeless and groundbreaking short ghost story writings where the quality of the original prose is wonderfully preserved in their transition to Television.
The demand for these spine chillers started to grow when the BBC decided to readapt  Oh Whistle and I'll Come to You for Christmas 2010, casting John Hurt in the role and Andy de Emmony directing.  Online passions grew for seeing these often talked about and much revered adaptations which no doubt culminated in this ambitious release.
Unlike the previous releases though, apart from obvious restoration work on all the programs, each releases will come with a wealth of extras, which will be picked apart in due course but will doubt provide many interesting and exclusive features perfect for those wintery nights by the fire with the wind rattling the window sills.
To any fan of great horror, great television and great ghost stories, this will be an essential purchase.  In ghostly terms, this is the Shakespeare of the haunted and in the hands of both the BBC and the BFI, it morphs into something beyond iconoclastic in the canon of British horror and into something verging on local myth only whispered about by the people lucky enough to witness the original, terrifying broadcasts.
Oh Whistle and I'll Come to You (1968 & 2010 versions) and The Stalls of Barchester & A Warning to the Curious are out on the 20th August 2012.  Other releases to follow in September and October.
Reviews of all releases coming soon to The Spooky Isles!
---
ADAM SCOVELL is a music student specialising in film music.  When not obsessively watching and writing about film, he can be found playing jazz in seedy clubs and making short films found at www.celluloidwickerman.com
---
You may also like to read: