---
Today's Spooky Twitter Talk tweets The Bloody Mary Show, a new online UK horror comedy coming out soon. We're talking to producer Darren Chadwick-Hussein.
---
1. Who are you and what you are you about?
@SPOOKYISLES The show is pitched as 'Hollyoaks with ghouls' and we took care to pay respect to everything British about horror/spookiness but in a lighthearted way. How Carry on Screaming or Shaun of the Dead treated source material with respect.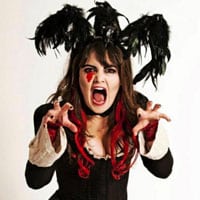 ---
2. Sum up your life in one tweet
@SPOOKYISLES 'Don't Dream It, Be It'  If I wanted to be less flippant, I'd say learn from your mistakes and never take no for an answer. There's always another way.
---
3, Do you believe in ghosts (and have you ever seen one)?
@SPOOKYISLES  I've seen a few in my time and where I live has a 'presence' in the hallway. Doesn't scare me any more. You accept these things. I'm probably the only person I know who saw a ghost and first thought 'rude cow' when it didn't respond!
---
Meet Herzog from The Bloody Mary Show VIDEO
---
4. Favourite spooky spot?
@SPOOKYISLES I grew up in the shadow of Pendle Hill which is famed for witchcraft … but I also spent many a fun childhood week hunting for the White Lady of Towneley Hall.
---
5. Tell us one interesting fact about yourself that we might not know.
@SPOOKYISLES I'm actually left handed but was forced to use my right hand at school. Is that interesting though? 🙂
---
6. Vampires, zombies or werewolves?
@SPOOKYISLES … if I had to choose to be one of the three, I'd be a vampire. There's something sensual about vampirism, something chaotic about werewolves, zombies are just misunderstood. Poor zombies.
---
7. Favourite horror film?
@SPOOKYISLES Wow. That's tough. I love chinese food but can't pick a particular dish. Fave US horror would be Night of the Living Dead … Favourite UK horror would be… there are so many.  For my shame, my favourite UK horror movie would be The Monster Club because I saw it as a child and blew me away.
---
8. What would you like to be doing in 10 years?
@SPOOKYISLES I'll never have kids of my own so I hope in a decade I'll be inspiring the next generation to take a walk on the spookier side.
---
9. Best horror/supernatural author?
@SPOOKYISLES As a kid I always enjoyed stealing my dad's James Herbert books because there was always a smutty bit … But if I had kids I would read them Roald Dahl's The Witches every night before bed.
---
10. Got anything interesting coming up?
@SPOOKYISLES Well, the show goes live later this month so I hope everyone watches it! It's been a labour of love for two years.
---
More about The Bloody Mary Show with a story in Spooky Isles next week!
The Bloody Mary Show is scheduled to begin in mid August. Keep your eyes out for its website: http://www.bloodymaryshow.co.uk and you can follow on Facebook and Twitter.
---
Here's a cool interview with Bloody Mary herself to whet your appetite for the show!
---