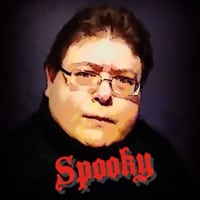 ---
Today's Twitter Talk Spooky Fan is Robin Blay, an enthusiastic paranormal investigator, horror fan and tweeter from London. We asked him the 10 burning questions …
---
1. Who are you and what you are you about?
@SPOOKYISLES I'm about Wapping at the moment lol … I'm a member of White Light Paranormal Investigations
---
2. Sum up your life in one tweet
@SPOOKYISLES Very interested in all things strange and spooky but I can be both at most times
---
3, Do you believe in ghosts (and have you ever seen one)?
@SPOOKYISLES Humm not seen a ghost at the moment. Have seen a object move by itself at The Cage Witches Prison and I've a open mind
---
4. Favourite spooky spot?
@SPOOKYISLES Well there are many but If I had to pick one I would like to go back again to the Rams Head Inn
---
5. Tell us one interesting fact about yourself that we might not know.
@SPOOKYISLES Was at News International when Freddy Starr landed his helicopter outside the security camera control room
---
6. Vampires, zombies or werewolves?
@SPOOKYISLES Werewolves
---
7. Favourite horror film?
@SPOOKYISLES Frankenstein
---
8. What would you like to be doing in 10 years?
@SPOOKYISLES That's tricky as I'm caring for my mother at the moment but in good health and sound of mind from dealing with the paranormal
---
9. Best horror/supernatural author?
@SPOOKYISLES Clive Barker
---
10. Got anything interesting coming up?
@SPOOKYISLES An investigation can't say anymore at the moment details pending
---
ROBIN BLAY, according to his Twitter description, is: "Good guy who likes strange stuff and all things paranormal. Newest member of White Light Paranormal, East London." You can follow his spooky tweets at @rblay

---
You may also like to read: