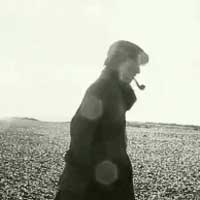 ADAM SCOVELL tells The Spooky Isles about the inspiration behind his short film, A Cottage by the Sea.
"After spending the last few months immersed in the BBC Ghost Stories (thanks to the wonderful press office at the BFI sending preview discs of all the releases) it seemed nigh on impossible not to attempt making my own.
"It was also a complete stroke of luck that, after becoming obsessed with the early M.R James adaptations by Lawrence Gordon Clarke, that my parents decided to go on holiday to north Norfolk where many of the stories including A Warning To The Curious were filmed.
"The story was put together on the six hour drive to the area and then was filmed over two days in a little village on the coast called Cley Next To The Sea. Cley is the most picturesque of places, ideal for a haunting.
There's something so special and untouched about Norfolk giving it a natural affiliation to aspects such as ghosts, haunting, magick and the occult. It has the feel of The Wicker Man and the landscape of Winstanley.
"I had to film  everything by myself so it is a little more stationary than my usual films.
"It's almost the ultimate auteur experience having to do literally everything in the film (including acting two separate people) but overall it hopefully gives a distilled vision of what I want  to create with film. Spooky, haunting beauty."
You may also like to read: