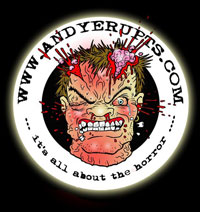 ---
Today's Twitter Talk Spooky Fan is Glasgow-based horror film maker and website editor ANDY STEWART. We asked him the 10 burning questions …
---
1. Who are you and what you are you about?
@SpookyIsles A horror journalist for my own site, Scream Magazine and recently got into filmmaking with my first horror short Dysmorphia
---
2. Sum up your life in one tweet
@SpookyIsles Odd? Interesting? It's annoying that it took me to thirty something to do anything…
---
3, Do you believe in ghosts (and have you ever seen one)?
@SpookyIsles I haven't seen anything, no. I am, however, open to the idea. I hate Ghost Hunters and Most Haunted though…
---
4. Favourite spooky spot?
@SpookyIsles ooooh. Man. I dunno. Its not spooky, ghosty-wise, but I love The Witchery in Edinburgh…
---
5. Tell us one interesting fact about yourself that we might not know.
@SpookyIsles I was terrified of masks until I was about 7. Now, I love horror. I blame John Landis and American Werewolf In London…
---
6. Vampires, zombies or werewolves?
@SpookyIsles oh definitely Werewolves. I feel zombies and vampires are a little worn these days. Werewolves cost money.
---
7. Favourite horror film?
@SpookyIsles aw man. Ok. This week, The Wicker Man, Zombie Flesh Eaters, Re-animator, The Exorcist, Hellraiser
---
8. What would you like to be doing in 10 years?
@SpookyIsles That's easy. Making horror movies. I shoot #Banquet in 3 weeks… Check it out..
---
9. Best horror/supernatural author?
@SpookyIsles oh wow. I love Stephen King and Dean Koontz but my fave are John Connolly's "Charlie Parker" books…
---
10. Got anything interesting coming up?
@SpookyIsles I have indeed. After the success of #Dysmorphia, we shoot the follow up, Banquet, shortly. SUPPORT INDIE HORROR.
---
ANDY STEWART is a Glasgow-based horror film maker. Watch the trailer to his short film, Dysmorphia here. You can follow him on Twitter here @andyerupts

---
You may also like to read: