---
---
Herzog is the creepy but good-natured wraith, from The Bloody Mary Show
---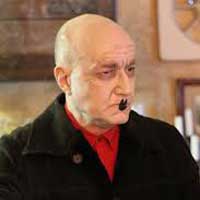 If you didn't already know, Spooky Isles loves The Bloody Mary Show.
The award-winning British online horror comedy series was the breakout of 2012 with its irreverent mix of traditional horrors and melodramatic soap opera.
While we wait eagerly for the second series, which its writer-producer Darren Chadwick Hussein says will arrive for this year's Halloween,  here is an promo focusing on Herzog, the creepy but good-natured wraith, who runs Hemingways – the pub location where most of The Bloody Mary Show's comedy drama takes place.
Herzog is played by legendary horror filmmaker David McGillivray – the screenwriter behind such warped classics as House of Whipcord (1974), Frightmare (1974) and Schizo  (1976).
(Spooky Isles interviewed David McGillivray last year about his amazing career. You can read it here.)
---
You can watch the rest of this fabulous video series, including promos, interviews and general spooky nonsense, on the Bloody Mary Show You Tube Channel here.
---
You may also like to read: