---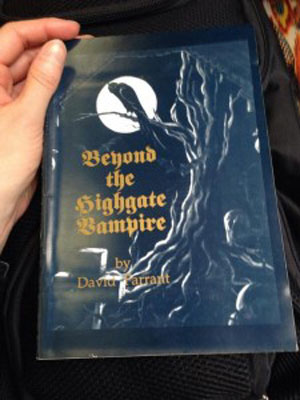 ---
DARK MORTE delves beyond the mystery surrounding an infamous British 'vampire' and peers into the realm of the 'zombaby'.
---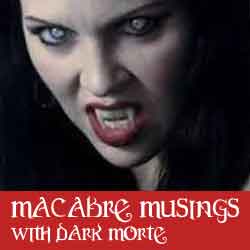 Well, it's almost Friday the 13th again, unlucky for some but for me it will be a good lead up to what's set to be an awesome weekend filled with the paranormal, mystery and intrigue!
I've been reading 'Beyond the Highgate Vampire' by David Farrant this week, an in-depth account into not only David's personal involvement with the case but a solid catalogue of other similar reported sightings throughout the ages, within the vicinity, leading up to the case itself, and, of course, the aftermath of the media frenzy.
The book is a definitive and well-written account of the case and I would definitely recommend it as a staple piece of reading material for those interested in the case itself, vampire legend or other related phenomena.
From one vampire subject matter to another (as you make have come to expect from me by now). I've just watched sinister horror film 'Grace', which IMDB describes as "After losing her unborn child, Madeline Matheson insists on carrying the baby to term. Following the delivery, the child miraculously returns to life with an appetite for human blood. Madeline is faced with a mother's ultimate decision.".
I'd not heard of the film before until Netflix placed it in my suggestions list but of course the premise drew me in and a couple of clicks later I was watching it. It's definitely worth more than the 5.2 stars out of ten that IMDB users have rated it. Yes it's low budget but no it's not low on quality. I'm not entirely sure the baby itself fits within the modern vampire mythology, I'd deem it rather more aligned with the zombie genre. The film is however, none the less, is an enjoyable watch.
On a closing note one of my very own vampire videos Vampire Fangs Review (Frights & Delights ep1) on YouTube has now exceeded a 3000 view count which is jolly spiffing news.
Until next week darklings, adieu x
---
DARK MORTE – Mistress of the macabre, queen of all things sinister, seductive and downright spooky, is a Gothic/Horror/Alt model, actress and vocalist from the haunted streets of old London. Her website is www.darkmorte.com. You can check out her Facebook Page here and her Twitter here.
---