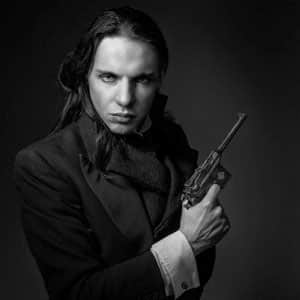 ---
Today's Twitter Talk Spooky Fan is DARREN DEMONDAZ, a London-based male model and self-stylist, DJ and promoter – who has a thing for vampires! His Twitter handle is @Demondazz
---
1. Who are you and what you are you about?
@SpookyIsles I like to think of myself as a vampire culture promoter, an entertainer, and image consultant.
---
2. Sum up your life in one tweet
@SpookyIsles Long waits for short but hectic bouts of activity…
---
3, Do you believe in ghosts (and have you ever seen one)?
@SpookyIsles I had an experience once, chased by something invisible when in the grounds around Chislehurst Caves.
---
4. Favourite spooky spot?
@SpookyIsles Well Chislehurst Caves for one, but I'll add Angkor Wat (deserted when I went thanks to SARS virus scare)
---
5. Tell us one interesting fact about yourself that we might not know.
@SpookyIsles I'm a big fan of Masterchef and Great British Menu.
---
6. Vampires, zombies or werewolves?
@SpookyIsles Vampires always! Zombies are mindless and the others reduced to mere beasts.
---
7. Favourite horror film?
@SpookyIsles That's hard! So many, you might have given me a theme. I did enjoy Don't Be Afraid of the Dark of recent.
---
8. What would you like to be doing in 10 years?
@SpookyIsles I hope to be continuing much as I do, finger in some pies, keeping things interesting…or living as a hermit in a cave.
---
9. Best horror/supernatural author?
@SpookyIsles H.P. Lovecraft if I avoid stating the predictable.
---
10. Got anything interesting coming up?
@SpookyIsles My second Grimm event. Lord of the Grimm on 28th, calling down to Colchester Oyster Faire this weekend…
---
Today's Twitter Talk Spooky Fan is DARREN DEMONDAZ, a London-based male model and self-stylist, DJ and promoter. He is the founder of Vampyre Villians vs Steampunk Slayers Clu. You can follow him on Facebook here and on Twitter @Demondazz
---
You may also like to read: