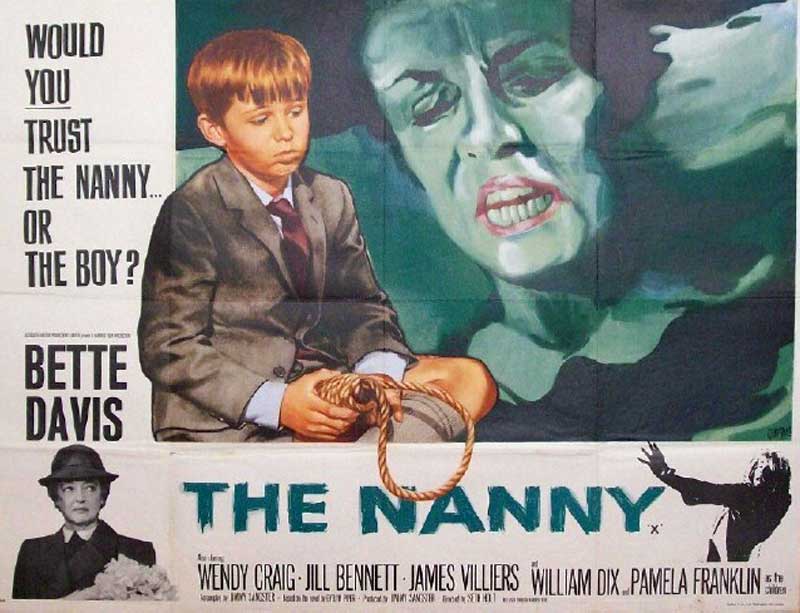 TITLE: The Nanny
YEAR RELEASED: 1965
DIRECTOR: Seth Holt
CAST: Bette Davis, Wendy Craig, James Villiers, William Dix
PETER FULLER reviews the Bette Davis Hammer horror classic, The Nanny (1965)
Ten-year-old Joey (William Dix) is coming home, having spent two years away ever since a tragedy in which is baby sister drowned. The spoilt public-school boy returns to a household totally dependant on dowdy Nanny (Bette Davis), whom his father Bill (James Villiers) trusts implicitly and mother Virginia (Wendy Craig) cannot do without. But Joey doesn't, and accuses Nanny of trying to kill him – only no one believes him…
The Nanny 1965, a Hammer thriller, stays unpredictable till the very end, and asks the question: Is The Nanny really as deranged and dangerous as little Joey alleges or is he just a very cunning sociopath? Adapted by Jimmy Sangster from a novel by Bunny Lake is Missing author Merriam Modell (as Evelyn Piper), The Nanny was the last in Hammer's post-Psycho monochrome thrillers that started out with 1961's Taste of Fear.
Seth Holt, who also helmed Taste of Fear, directs with sophistication, subtly capturing the eccentricities of Nanny's employers (whom she infantilizes), while the film's claustrophobic setting is given an atmospheric film noir edge in Harry Waxman's excellent black and white photography. Adding to the suspense is Richard Rodney Bennett's dramatic background music, which helps keep viewers on edge, while young William Dix's unnerving performance as Joey shares the same creepy kid DNA as Martin Stephen's albino space seed David in Village of the Damned (1960) or his corrupted Miles in The Innocents (1961).
Full honors, however, go to Bette Davis. While often labeled as just another 'psycho-biddy' role for the veteran actress, her prim and proper Nanny is much more quietly effective than her Grand Dame Guignol excesses in Whatever Happened to Baby Jane (1962) or Hush, Hush, Sweet Charlotte (1964). It's an understated Davis on show here, and her character's surprising revelation really does set this Hammer thriller apart.
London film location fans might like to know that the exteriors of The Nanny 1965 were shot at 30 Chester Terrace, one of the John Nash-designed neo-classical terrace houses located in Regent's Park; while the Wall Hall mansion house in Aldenham, Herts (which was also seen in The Vampire Lovers) doubled as Joey's school.
You may also like to read: