Spooky Isles talks to Della Farrant, the organiser of a upcoming full-day conference into the infamous Highgate Vampire!
There are few Spooky Isles readers who will not have heard of the infamous Highgate Vampire.  On 19 July 2015 this classic  and controversial case will the subject of a full-day conference – The Highgate Vampire Symposium – which will attempt to address the myths and potential reality of just what haunts Highgate Cemetery, North London.


Spooky Isles caught up with Symposium organiser, Della Farrant, author of Haunted Highgate and wife of David Farrant, President of the British Psychic & Occult Society, to talk about the event.  David Farrant, who is well known for his involvement with the Highgate Vampire case and has been guest speaker at several Spooky Isles events, will be speaking at the Symposium, along with many other well-known figures in the world of the paranormal.
So, Della, does the Highgate Vampire really warrant a whole day?
Yes! And probably longer if time allowed.  The case has so many elements which deserve individual evaluation.  Glossing over these would leave us no closer to the truth.  For so many years people have been reporting being frightened by tall dark figures in Swains Lane and Highgate Cemetery itself.  The witness testimonies alone invite consideration of what kind of phenomena we are dealing with.  Do they lend the possibility of something really haunting Swains Lane credibility, and if so what paranormal explanations fit what we can glean about it from its behaviour and appearance?  This leads us into many areas of supernatural thought: sentient vs. insentient apparitions;  the potential impact of occult practices in the area in the 1960s and 1970s;  environmental factors such as potential infrasound, underground water sources and ley lines;  even the possibility of inter-dimensional beings.  The entity is so well known now that we cannot discount autosuggestion and ostension theory, but even this needs careful handling lest we apply it too broadly in light of the volume of and contexts of sightings.  And then of course there are the sociological factors which influenced and over-shadowed early popular views of the entity; the desecrations, the mass vampire hunt of 1970, the shock-horror reporting in the press – these perhaps tell us more about human than super-nature!  But they need weeding out and confronting for what they are, before we can look at the entity in isolation – if that is possible.  All of these areas could be full day conferences in their own right!



Why do you think the mystery of the Highgate Vampire has been so enduring?
I think it could be a case of that old adage 'there is no smoke without fire'.  In the case of the Highgate 'vampire' – or entity/ies – there has certainly been a lot of smoke over the decades, not to mention the mirrors!  Fans of Forteana often get put off by the heated (and often personal) arguments surrounding the case, but it seems that many are also left with the suspicion that there may be something genuinely paranormal at the bottom of it all.   And in that scenario, with no proven answers, the case has it all – horror, pathos, desire to see it for oneself.   For many, not being able to crack a mystery is part of what draws them to the paranormal, with the perpetually peaked curiousity and thrill of foraying into uncharted lands which this affords.
On the flipside many people seem wired with a need for safe answers in order to make sense of and feel confident in this perplexing world we all physically live in.  As the Highgate 'vampire' becomes more and more of a challenge to this craving for existential security, some skeptics rapidly find themselves hooked.  The Highgate entity seems tenacious of life – for every attempt to debunk it, there is a sincerely recalled sighting to balance such efforts.  And short of outright denial that the supernatural world exists at all, no rational explanation ever quite succeeds 100%.  Maybe this could be described as the ultimate curse of the Highgate 'vampire'!
I thought David was fairly fed up with the whole Highgate Vampire thing – considering he's done so many other interesting things in the paranormal field – why are you focussing on the Highgate Vampire at July's Symposium?
Well to start with, it wasn't David's idea, it was mine.  And I wear the trousers! Well, according to some people, anyway, but that's not actually true.  The reason for dedicating a whole day to the entity is that like many people I get frustrated with how little debate is actually focussed on the entity itself, and how much disinformation is out there.  The Highgate entity is not your typical grey lady haunting an old castle.  It is vicious and polite by turns, appears sentient, and typically frightens the wits out of witnesses.  So it deserves its chance in the spotlight, in my opinion.
Yes, David's lifetime of research into the paranormal does tend to get overshadowed by the Highgate case.  But in terms of why he won't – or can't – give up on it, it is important to recognise that in 1976 the case nearly killed him, during a seven week hunger strike in Blundeston Prison.  That followed his conviction for two counts of desecration at Highgate Cemetery, which he still maintains were the work of black magicians.  That David had cause to visit the cemetery at night at all was predominately in connection with his early investigations into the entity which had been sighted there.   So, I suppose the entity, which David had himself seen in 1969, and the affront which his interest in it eventually caused to his liberty, make it an inextricable component of his psyche.  Whether he gets fed up with it from time to time or not, for him it will always be there in the background, psychologically, spectrally and in terms of other people's perceptions of him.



Will you be looking at other spooky things other than the Highgate Vampire?
Yes, where relevant.  Highgate is a heavily haunted village, and we need to reflect upon what makes the area so innately prone to ghostly manifestations and other psychic disturbances.  Additionally, where discernible, ascertaining whether these 'ghosts' are in anyway connected, to each other or to certain periods in Highgate's history, may well be of value.
Another thing to bear in mind is that strange experiences in Highgate Cemetery and Swains Lane, where the entity is most frequently reported to visually manifest, are often reported regardless of an actual sighting.  These include interference with mobile phones and camera equipment, inexplicable feelings of fear and panic, sudden drops in atmospheric pressure, and even impressions that the steep lane has become flat – underfoot and to one's visual perception.  Modern approaches to the paranormal insist, quite rightly, that when investigating any alleged haunting which such phenomena may be connected, they are explored individually and in context.   It would be fascinating to know if at least some of these oddities were experienced before the erection of the massive signal mast at the top of the lane in 1938.  But there again we have a mystery!  If the mast generates the effects of infrasound, for example, do these cause or enhance 'psychic' phenomena?
The location is fantastic – tell us about the Gatehouse pub.
The Gatehouse is one of the earliest remnants of what became Highgate Village.  For centuries it operated as a tollhouse, and also sits at a crossroads.  Millions of people must have passed through the arch which once linked it to the old graveyard across the road, and it has a long history of inhabitation.  So traditionally the Gatehouse has always been a site of flux, of boundaries and entry points, of opening and closing doors.  It is also said to sit directly on a powerful ley line which runs north through the cemetery some 500 yards to the south.


Many parts of the existing building are survivors from previous incarnations on the site, and perhaps unsurprisingly it is reputed to be almost as haunted as Highgate Cemetery itself!  The majority of frightening encounters have been reported in the area upstairs where the Symposium is taking place.  Now the popular theatre Upstairs at the Gatehouse, the upper storeys have at least three ghosts, and have been subject to heavy poltergeist occurences.
Owner of the theatre John Plews will be giving a brief outline of his own experiences and those of others over the years, and it is just possible I suppose that all the talk of ghosts on the day might stir up Mother Marnes, a seventeenth century widow who is rumoured to have been murdered for her money and who has been seen and heard on many occasions in the theatre and adjacent rooms.  Hopefully we won't receive a visit from the tall hatted strangler though, who has intimidated staff and visitors alike over the decades, or the straggly-haired smuggler who once pushed a barman down the steps to the gallery which now overlooks the auditorium!
Tell us about the speakers – how did you chose them?
I tried whilst selecting speakers and assigning them to panels to focus on researchers, lecturers and paranormal investigators with a broad range of approaches – and opinions.  Obviously David's stance on the Highgate entity has been well stated over the years, namely that it does exist, that it is not a vampire, but that as yet we have no definitive explanation for it.   However other potential attendees will naturally have differing views, or none at all at present.  When approaching a subject as nebulous as the Highgate 'vampire', we should not rule out any possibility.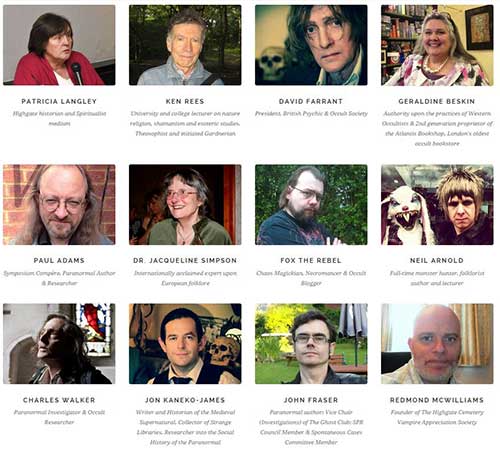 Therefore I have attempted to assemble a brace of speakers who can help the audience make up their own minds.   For example, Dr. Jacqueline Simpson of The Folklore Society will be approaching the case from a sociological perspective, asking just what makes people hunt and perhaps create 'monsters' such as the Highgate 'vampire', and perhaps prompting some introspection among attendees as to what draws them to the case.  Scholar of the medieval supernatural, Jon Kaneko-James, will be discussing the concept of English Revenants and testing its application against claims dating back to 1970 that the entity is in fact a blood-sucking vampire of ancient European origin!  Then we have writer Patricia Langley, with her vast knowledge of the history of the area, and her own take on how this fits in with the controversial and perpetual ghost vs. vampire debate which is so associated with the case.
Author and full time monster hunter Neil Arnold, John Fraser of the Society for Psychical Research, and L.A. based Gareth Davies of Mind Set Central will be bringing their vast comparative experience of allegedly supernatural cases and concepts from around the globe to The Big Ghost Debate, and questioning how these could further our understanding of what witnesses may be experiencing and why.    University lecturer on esoteric studies Ken Rees will be inviting us to suspend our day to day thinking and look at Highgate as a place between two worlds, thus opening up thought on why what happens there (and perhaps elsewhere) happens, from a fresh perspective.  Occult blogger and necromancer Fox the Rebel, and Occult investigator Charles Walker of Clapham Woods notoriety will be addressing the dark magical practices known to have taken place in the cemetery in the past, and musing upon the relationship they may have to the tall and often menacing figure which seems to be guarding the gates to this day.  They are joined by Geraldine Beskin, owner of The Atlantis Bookshop, who has her own, personal, recollections of the London and Highgate occult scene in the 1970s to share with the audience.
Redmond McWilliams, founder of the Highgate Cemetery Vampire Appreciation Society, will be kicking the day off with a round up of sightings to date.  With his extensive and detailed knowledge to hand, attendees will hopefully benefit from a sound grounding in the origins of just what we are actually there to talk about on the day!
And of course, let us not forget Paul Adams, author of dozens of top-charting paranormal histories and analyses, who will be compering the day.  With such a variety of speakers and such a balanced and sensible (yet fun!) compère to keep order, The Highgate Vampire Symposium looks set to leave no stone unturned in the quest to discover just what lurks behind the myth.
And that's before we get to the mystery guest…
So how do all us ghouls (and serious paranormal enthusiasts!) get tickets?
Tickets for the Symposium are available for £12 / £10 concessions, and can be purchased directly from Upstairs at the Gatehouse, in person over the telephone on 0208 340 3488, or online at http://www.upstairsatthegatehouse.com/booking
We look forward to seeing all you Spooky Isles fans there!