GREGOR STEWART continues his series looking at the Most Haunted Scottish Castles. Today he looks at the spooks inside Dunnottar Castle, Aberdeenshire.
Situated on a rocky outcrop on the north east coast of Scotland, a few miles south from the town of Stonehaven, is Dunnottar Castle.
Surrounded on three sides by steep cliffs to the North Sea and only accessible via a narrow strip of land, it is clear from the first glance that the castle holds an impressive defensive position. It is for this reason a castle has stood on the rock for over 1300 years. The castle is one of the most visually impressive in the country.
Built on the site of an earlier Pictish Fort that was destroyed in a Viking attack in which Donald II King of Scotland, was killed.
The oldest part of the stone structure that still stands today is the 13th century church, constructed around the time when the castle was taken by King Edward the 1st of England during the Wars of Independence, which led to William Wallace attacking the castle a year later when it is said he set fire to the church with the English troops inside.
Haunted Dunnottar Castle has violent past
After many attacks, the castle was finally destroyed when Oliver Cromwell's army attacked it. Such were the defences of the castle, an army of just 70 Scots successfully held it against Cromwell's army for eight months, until Cromwell brought heavy guns to the battle, and after being shelled by the cannons for ten days, the castle was surrendered.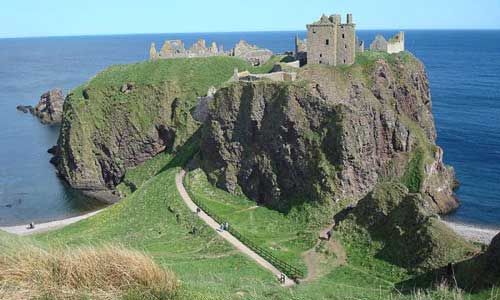 In 1686 around 180 men and women were imprisoned in the building now known as the Whig's Vault, one of the few still intact in the ruined castle. The Whigs were a political party that opposed the Stuart Kings, and it was because of their refusal to acknowledge the King that they were held in the cellar with almost no food or water, no sanitation and no ventilation, for almost two months, by which time 37 of the Whigs had taken the oath to the King and had been released, 25 had escaped, although 15 were recaptured, and two fell to their deaths. Five prisoners died inside the vaults due to the horrendous conditions. Those who survived were deported to the West Indies.
The ghost of a young girl wearing a tartan skirt is frequently witnessed in the brewery within the castle walls. Although little is known about who this girl was, she is likely to be connected to another ghost seen in the same area, as well as in the former bakery, described as a lady in green, who is believed to date back to Pictish times.
Dunnottar is also said to be haunted by a soldier who has been seen around the guardroom and main entrance of the castle. He is normally described as a tall man, sometimes said to be of Scandinavian appearance, suggesting he may date back to the time of the Viking invasions.
At night, when the castle is quiet, it is also said that cries of pain and terror can be heard within its walls, cries that are associated with the suffering endured by the Whigs during their time of imprisonment in the Whig's vault.
https://youtu.be/Yefw4aa6ErA