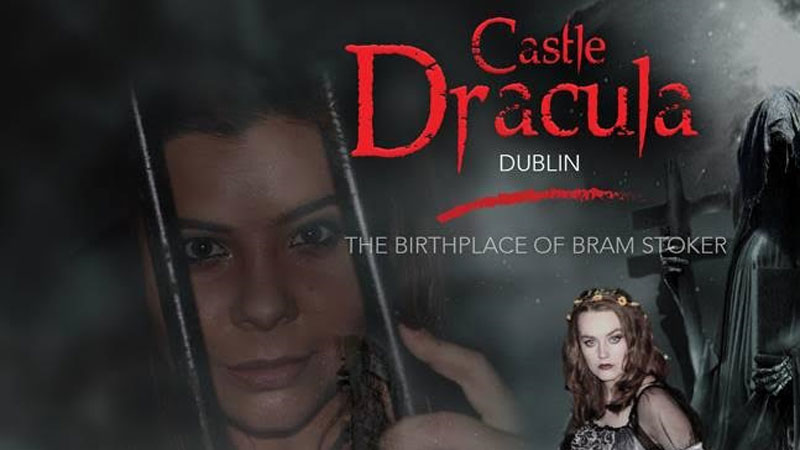 Chris Rush and Ann Massey O'Regan will be finding out what Dublin's Castle Dracula experience is all about first hand.  In the meantime CHRIS RUSH caught up with creator Ronan MacGabhann to discover more about the venture and what they could look forward to:
I suppose the first question is where did the interest stem from to take on and develop this very interesting project?
I am a huge history buff and love the Victorian period and writing. I visited Castle Dracula when it was open many years ago and although it was used very differently to how we use it now, it completely caught my imagination and I dreamed about the space and what it could be. I thought it was a magical place and deserved a wondrous presentation.
Can you give us an insight to the timeframe and what was involved to get Castle Dracula to the stage it is at now?
It has taken years and years to get the Castle to where it is now, we moved all the walls, put in a stage, lighting, sound and added the craziness.
Stoker is a huge influence on the horror genre and Castle Dracula seem to have done quite a substantial amount of research into not only the creator of Dracula, but indeed his family. Was this information hard to source and why?
Bram Stoker is a case of truth being more interesting and bizarre then fiction. Bram is a local writer and our aim has always been to celebrate his amazing life and his work. We have been very lucky to find lots of writing and historians who specialise in Bram and Dracula.
The Hall of Fame sounds incredibly interesting, displaying such items as photos, the original Dracula manuscript, a lock of Bram Stokers hair and his birth certificate and displays on the iconic actors who took on the Prince of Darkness role. Where these items hard to source and could you give us an insight on how they were obtained?
Bram Stoker's Hall of Fame has been a life long journey of love, collecting all the incredible exhibits we have on Show. Our highlight is of course a lock of Bram Stoker's hair cut on his deathbed by his wife Florence and handed down through the Stoker generations until it was donated to Castle Dracula.
What do you want visitors to get from the Castle Dracula experience?
Different people have very different experiences. My two dreams are one to celebrate Bram and Dracula and give our visitors a better understanding of that time in Ireland and Bram's Life, writing and Influences. My second dream is that as each visitor enters Castle Dracula they leave their lives behind and simply allow Castle Dracula to wash over them and do something we rarely do as humans, to simply live in the moment and enjoy.
Can you gave a brief outline of what to except when visiting this tribute to an icon?
Castle Dracula is Dublin's most Exciting, fun & unique Irish adult attractions. Millions of Euro have been spent creating this incredible Irish Castle Dracula attraction. Travel back in time & enjoy a heart-thumping visit to Castle Dracula, meeting the weird and wonderful characters from the story of Dracula and learn about Irish writer Bram Stoker, who wrote Dracula and was born beside Castle Dracula in Dublin. Brave guests journey through the dark castle tunnels, over spinning bridges to Lucy's Courtyard, up to Dracula's Lair and down to the world's only graveyard theatre for a show where they promise not to bite, unless.. Castle Dracula is a really fun experience like nothing else on the planet. Don't miss this unique Irish adult attraction! Lucky visitors also visit the Bram Stoker Hall of Fame in Castle Dracula, where Bram's incredible life is laid out through letters, pictures, stories, sketches, posters and even a lock of Bram Stoker's hair, not on display anywhere else in the world, cut on his deathbed by his wife Florence and handed down the Stoker Generations, putting you right inside the mind of the man who created the world's most famous character! This is your unique opportunity to enjoy the amazing world of Bram Stoker and Dracula in Ireland!
Any final words for anyone thinking of visiting Castle Dracula? 
JUST GO!
Thank you for taking the time to answer my questions Ronan and we cannot wait to visit Castle Dracula in Dublin, which by the sounds of it is going to be a fantastic experience. More information can be found at: http://www.castledracula.ie/
You may also like to read: