SIMON BALL looks back on spooky sci-fi classic, The Changes from 1975
Now pay attention Spooky Islanders those nice people at the British Film Institute are having a bit of a Sci-Fi celebration with their Days of Fear and Wonder programme down on the South Bank and at various venues around the UK right now and as part of the fall out from this nostalgic look back at futures yet to come there are some cracking re-releases of archive terrorized TV like 1975's The Changes.
Now although it was pitched at the after school audience, tucking into their beans on toast just before The Magic Roundabout, The Changes was a very different show to other domestically produced Sci-fi like The Tomorrow People or Timeslip. For one thing it was mostly shot on film on location, rather than in a studio with wobbly cardboard sets and dodgy effects. It also dealt with a number of themes like racism and religious zealotry in a remarkably adult way.
Based upon Peter Dickinsons's best selling trilogy of Sci-fi novels; The Weathermonger, Heartsease and The Devils' Children. The Changes tells the story of Nicky Gore (Victoria Williams) who is at home doing her English homework when a strange noise suddenly turns everyone against machines. The homework is forgotten as she joins mum and dad, still with his pipe clenched firmly between his teeth,  trashing the telly, radio and the kitchen equipment. Outside an orgy of violence breaks loose as cars, trucks and vans are destroyed by ordinary folk.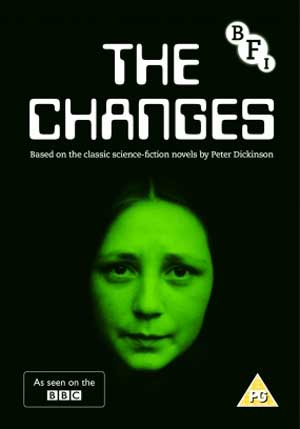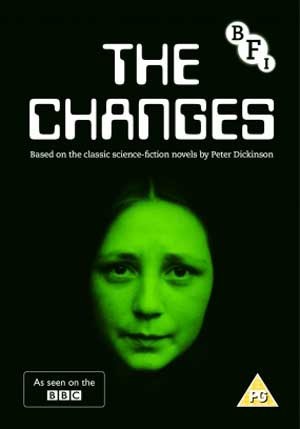 Once everyone has calmed down a bit Nicky's parents decide to head for the reputed safe haven of  France, but Nicky gets separated from them, but seeing as "Nicky is a sensible girl" they still hop it across the Channel without waiting for her, after all she's all of 14 years old so she will be well able to cope with an England, where law has broken down and most people have seemingly gone mad.
So Nicky falls in with a band of metal working Sikhs, who once they have overcome the distrust of the local community rescue them from the clutches of a gang of black clad RADA accented thugs. Now with both communities happily living side by side at last, Nicky goes off to find her aunt in the Cotswolds and this is where it gets interesting for us Spooky Islanders. Taking shelter in a farm tractor shed, Nicky is discovered and accused of witchcraft by the religious zealot Davy Gordon (David Garfield). In scenes that reminded me of British folk horrors like Witchfinder General, Nicky is tried by a frenzied crowd and sentenced to death by stoning.
Fortunately there are enough sane people left to break Nicky out of the barn and after giving the villagers the slip Nicky finally gets to the bottom of the mystery of the machine hating meltdown in an abandoned mine.
The depiction of a near apocalyptic future in The Changes paved the way for further BBC Sci-Fi drams like Survivors (initially broadcast in 1975 and rebooted in 2008) and The Day of the Triffids (first broadcast 1981 and then remade for 2009). The Changes broke a lot of new ground for TV drama in the 1970s, with: a strong female lead in Nicky and the positive depiction of an ethnic minority (the Sikhs). As with any piece of 70s Telly it does creak here and there with its predominantly middle class RP accents and the grating synthesised musical score from the BBC Radiophonic workshop, but I guess they just had a new expensive toy and wanted to justify the expense to the licence payer.
The Changes is available from the BFI Shop and other retailers RRP £24.99
SIMON BALL is a freelance writer and Editor at Large with the Horror Hothouse website, You can follow him on Twitter @RealShipscook